 Posts

117

Joined

Last visited
Recent Profile Visitors
The recent visitors block is disabled and is not being shown to other users.
CockyinVa's Achievements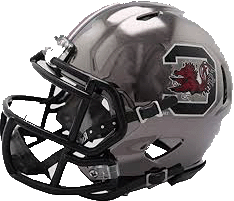 All-SEC (9/14)
Recent Badges
Really don't know what to expect, just hope we don't get totally whipped to put it politely. Hope Zeb can have success.

Hope we can keep this to a minimum. Need positive from here on out with as many players getting time as possible.

Just rewatched the last series with Zeb. Doty could not have handled that pressure of the moment. Zeb had no doubt. Is this the kind of pressure he will see D wise from A&M? No. But feel more confident with him back there, we shall see.

Stats can be deceiving. Zeb doesn't have those long pass overthrows like Doty. And the 3 he missed on at the end were certainly more catchable. Not sure about his scrambling out of the pocket and throwing on the run.

Will be interesting to see how Zeb does this weekend. Will the line step up for him. He drops back more than Doty, not sure about getting left or right out of the pocket. Definitely more accurate. Pass to Leggett was on the money. Doty offers little in run ability, he needs to run like Corral, no sliding take a hit. RBs need to start in rhythm. D needs to play tight. Hope Zeb balls it!

Probably has something to do with our talent level. Get beat and you're more likely to resort to holding. Drives me crazy cause lots of times it wasn't necessary because it doesn't even effect the play.

Anybody know why JuJu ands Brooks did not play. Where they suited up? Have not listened to Beamer, did he address it?

And add in EJ AT 6'7" 243 lbs would be a mismatch for any DB. Like to see what he can do after the catch.

Ok we've been a little quiet this week, time to change that. Vandy at our house, homecoming, our 1st SEC win! If you have tickets and can get there show up and be LOUD!!! Time to tourn this around! Gamecocks 45, Vandy 6.

Come on guys game is upon us. Been pretty quite hear on this game. Hope we have a good turnout, loud crowd for homecoming. Turn the corner now and get those 6 plus wins. These players deserve it and the coaches need it. We can do this!

P Plays right into today, if Doty struggles put in Noland. Win today, plenty of time for Doty or whomever to get reps for next year.

A&M, buyout 95+ Million!? Is that a typo? They're nuts if it's real.

Not sure about the 18.5 spread or the ESPN power index giving us a 92.6% chance of wining. Vandy loss to Fla, GA, Stanford & Etsu. Beat CSU & Conn. We loss to Tenn, GA & UK. Beat Troy, ECU & EIU. Not a huge amount of difference in the win/loss column. Stat wise we're more comparable. Biggest stand out stat wise is Vandy's lack of sacks. So Doty should have more time to throw. We will win but possibly closer game than we would like. Just hope it isn't. Looking ahead I don't see a loss to Missouri.