South Carolina spring game: Hilinski debut, Urich's big day at WR, Parker White is officially on scholarship with Videos, Gallery Stats, and More
April 06, 2019
The Garnet team rallied with two fourth quarter touchdowns to pull out a 28-16 win over Black in a see-saw affair that saw five lead changes, as the South Carolina Gamecock football team wrapped up its 2019 spring drills with the annual Garnet & Black Spring Game on Saturday afternoon.
 
A crowd estimated at 25,832 was on hand on a beautiful Saturday afternoon in Columbia, mostly to watch two young quarterbacks duel for the number 2 role behind incumbent signal-caller Jake Bentley. Neither quarterback would disappoint, as redshirt freshman Dakereon Joyner went 10-of-23 for 185 yards with one touchdown and one interception, and added eight carries for 60 yards, while true freshman Ryan Hilinski completed 24-of-36 passes for 206 yards on the afternoon, including completions on each of his first eight attempts. In limited snaps, Bentley was 9-of-14 for 96 yards and a touchdown.
 
Black got on the board first, scoring on its first drive of the game. With Joyner at the helm, the team covered 62 yards in 14 plays, consuming 4:54 on the clock, culminating with a Parker White 32-yard field goal.
 
Early in the second quarter, another Joyner-led unit produced points, this time for the Garnet squad. True freshman Kevin Harris burst in from 3-yards out for the game's first touchdown. The drive was highlighted by an 18-yard keeper from Joyner and a 25-yard pass completion to tight end Kiel Pollard on a 4th-and-10 to keep the drive alive.
 
The score remained 7-3 as the clocked ran out in the second quarter. However, before the teams went into the locker room for intermission, redshirt junior placekicker Parker White was rewarded with a scholarship in a
videoboard presentation, eliciting a roar from the crowd as he was mobbed by his teammates.
 
The scoring picked up in the second half. Black regained the lead on its first drive of the third quarter. Bentley, in for just his second series of the afternoon, found Deebo Samuel alone in the end zone from 25-yards out in the annual "off the bench" play, to give Black a 9-7 lead, as no extra point was attempted.
 
Garnet responded just two plays later when Joyner hooked up with Jay Urich on a short completion that saw Urich sprint down the sidelines untouched for a 62-yard score and a 14-9 advantage.
 
Black countered with an 8-play, 65-yard scoring drive engineered by Hilinski. Mon Denson covered the final four yards to paydirt, putting Black back on top, 16-14 with four minutes remaining in the third quarter.
 
Black had a chance to extend its lead, but was stopped on four rushing plays after having a first-and-goal situation from the seven. True freshman Derek Boykins was credited with three consecutive stops of freshman Kevin Harris to get the Garnet defense off the field and change the momentum of the game.
 
Garnet took the lead for good when Slade Carroll burst through the line for a 25-yard score with 4:50 left in the contest, giving Garnet a 21-16 advantage. Garnet sealed the win in the waning seconds when Trey Adkins caught a 1-yard pass from Urich for the game's final score.
 
The versatile Urich, a quarterback by trade, completed 6-of-8 passes for 84 yards, and was also the game's top receiver, catching nine passes for 130 yards.
 
Linebacker Ernest Jones was the game's top tackler with nine stops, just ahead of safeties J.T. Ibe (8) and Jamyest Williams (7). Safety Jamel Cook recorded the game's lone turnover, intercepting a pass from Joyner in the red zone.
 
2019 UNIVERSITY OF SOUTH CAROLINA SPRING FOOTBALL AWARDS
 
Joe Morrison Offensive Player of the Spring                          Donell Stanley
Rex Enright Defensive Player of the Spring                            Jaycee Horn
Jim Carlen Special Teams Player of the Spring                       Sherrod Greene & Kiel Pollard
Dr. Harris Pastides Outstanding Student-Athlete Rep.          Daniel Fennell, Kyle Markway & D.J. Wonnum
Most Improved – Offense                                                      Eric Douglas & Josh Vann
Most Improved – Defense                                                      Brad Johnson & Rick Sandidge
Most Improved – Special Teams                                            Ernest Jones & R.J. Roderick
Harold White GPA Award – Offense                                      Jake Bentley
Harold White GPA Award – Defense                                      Tyreek Johnson
Harold White GPA Award – Special Teams                            Spencer Eason-Riddle & Kiel Pollard
 
Urich's big day at WR
Coming into South Carolina's spring football game, there was an expectation Jake Bentley would have a smaller role as Dakereon Joyner, Ryan Hilinski and Jay Urich took most of the work.
Only during warm-ups, Urich wasn't throwing. He was catching passes.
The 6-foot-5 dual-threat passer, who quarterbacks coach Dan Werner said was among the fastest players on the team, was at wide receiver during the spring game. Earlier in the week, the coach said there had been no talk of moving him, though he had been helping out as a special teamer.
Urich played in one game last season, a blowout of Chattanooga. He was a three-star recruit and ran for more than 1,000 yards each of his last two seasons in high school. He had played wide receiver as a high school freshman. 
Through the first half of the spring game, Urich had five catches for 38 yards.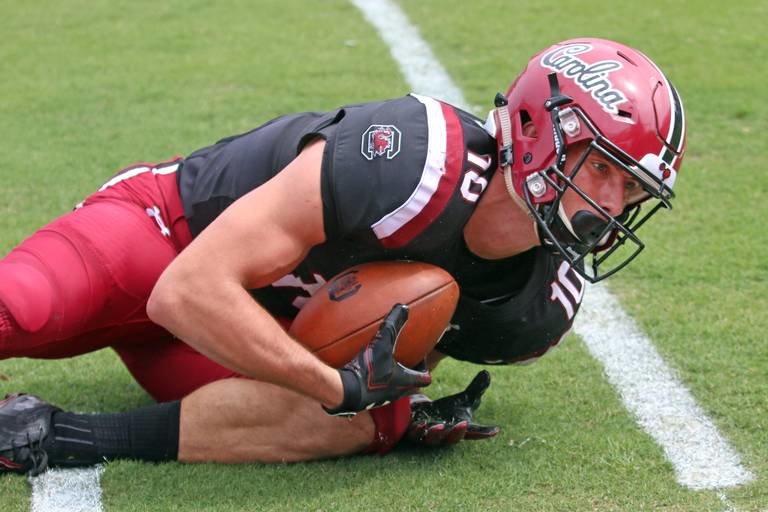 Freshman QB Ryan Hilinski impresses fans, media
Returning senior Jake Bentley will be South Carolina's starting quarterback in 2019, but newcomer Ryan Hilinski showed the Gamecocks have a bright future at the position after Bentley departs.
A 4-star recruit out of Orange, California, Hilinski was rated the No. 2 pro-style quarterback in the 2019 recruiting class. While a few schools pitched staying close to home, Hilinski remained committed to South Carolina and enrolled in classes on Jan. 7, allowing him to take part in spring practice.
Hilinski had an impressive first drive in the spring game, completing all but one of his passes.
He drew rave reviews, showing the "it" factor and looking more experienced than your typical early enrollee:
Parker White is officially on scholarship
The South Carolina football team put Parker White on scholarship with a video announcement at halftime of the spring game on Saturday.
White has been the Gamecocks starting kicker the past two seasons. He took the job from Alex Woznick early in 2017 and went 13-for-16 last season.
The high point of his career thus far was hitting a game-winner against Louisiana Tech in his first start. He is 27-for-41 in his career and has hit 71-of-72 extra points.
He walked on after a prep career at Wando High School after a year on campus not playing.
Watching South Carolina's spring game this is what I liked
South Carolina looked to turn the page to the 2019 season with its annual Garnet and Black game Saturday. Will Muschamp's new message was  "competitive depth."
A light crowd announced at 25,832 took in the game under mostly sunny skies.
Two of the most anticipated areas were the newcomers along the defensive line, most notably Zacch Pickens, and the battle for the backup quarterback position. But what became the biggest headline after the scrimmage was the versatility of one-time backup QB Jay Urich, who made plays all over the field.
The program honored former coach Harold White with stickers worn during the alumni game. White, who died in February at 78, spent four decades with South Carolina athletics department. White was South Carolina's first African-American coach when he was hired by former head coach Paul Dietzel as a graduate assistant in 1971 at the age of 31.
Here are three things I liked about the Garnet and Black game:
QB Ryan Hilinski looked very crisp
As the third quarterback to enter the game, blue-chip recruit — and true freshman — Ryan Hilinski had a banner debut in his first competition before a crowd at Williams-Brice. Hilinski had the best start of all of the quarterbacks, even though he followed Jake Bentley and Dakereon Joyner.
Hilinksi began 8-for-8 for 42 yards, then went 10-for-13 on his first two drives. He threw a series of short and high percentage passes, but also connected with TE Kiel Pollard on a 12-yard completion on a rollout. Hilinski then overthrew a pass in the end zone, and ended another drive with a pass breakup over the middle.
But overall, it was a solid debut in the competition to be Bentley's backup as the starter was in for two drives, each to start a half. Bentley's last pass was the annual "off-the-bench" play where former WR Deebo Samuel caught it wide open in the end zone.
Youngsters, newcomers make contributions
When the backup quarterbacks looked out of sync, it was largely because of the defense, which included solid plays on breakups from the likes of Israel Mukuamu and Jamel Cook, who had several pass breakups and an interception of Joyner near the goal line. Defensive lineman Kingsley Enagbare made a key play on an end around attempt by Randrecous Davis.
In another area where the Gamecocks look to add depth, backup running back Kevin Harris scored a 3-yard touchdown. He's in the mix as a complementary back to Rico Dowdle and Mon Denson.
Even a couple of former backup QBs, Bailey Hart and Jay Urich, made a splash, especially in the first half, with a combined nine catches for 105 yards. Urich then made a 62-yard touchdown catch from Joyner in the second half with breakaway speed down the sideline. Urich also took snaps at quarterback late in the third quarter. Urich's touchdown catch might have only been out done by his back shoulder pass to Darius Rush for 28 yards. Urich capped a banner day with a drive in the waning seconds before the game ended on a TD pass to Trey Adkins.