Welcome to Gamecock Fanatics
Register now to gain access to all of our features. Once registered and logged in, you will be able to create topics, post replies to existing threads, give reputation to your fellow members, get your own private messenger, post status updates, manage your profile and so much more. This message will be removed once you have signed in.
Login to Account
Create an Account
View Other Content
Search Articles
0
South Carolina Football Recruiting: Meet All the 2014 Commits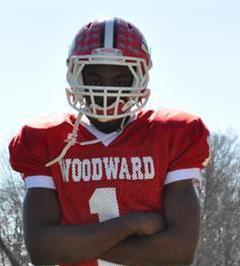 South Carolina Football Recruiting: Meet All the 2014 Commits



Lee Schechter

FEB 05,2014
The head ball coach and the staff at South Carolina should be excited about the 2014 recruiting class. And it's not quite done yet.
It's national signing day and while the class is already solid, there are still two recruits that the Gamecocks would be thrilled to land. With cornerback still a team need, South Carolina has its eyes set on Chris Lammons and Wesley Green.
Whether or not South Carolina lands anymore commits on national signing day (I think it is pretty certain that the Gamecocks will), the 2014 recruiting class is very good.
With highly touted players like Bryson Allen-Williams, Shaq Davidson, Dante Sawyer and Donell Stanley, the Gamecocks have incoming talents that can make an impact now and in the future of the program.
Without further ado, it's time to meet the 2014 commits.
Abu Lamin
Abu Lamin, DT: 6'4", 300 pounds (Fort Scott, Kan.)
Lamin is big, and he is a junior college player. This kid does not lack experience.
As an early enrollee, Lamin is amped up to have a role on the Gamecocks defensive line in 2014. He's probably a bit bigger than his listed height and weight, and he could be a force on the interior of the defensive line.
His size is a main selling point, though Lamin also has uncanny explosiveness for a player of his size. His first step and attacking mentality from the middle should bode well for South Carolina.
Jhaustin Thomas
Jhaustin Thomas, 3-star JUCO SDE: 6'6", 255 pounds (Decatur, Ga.)
Thomas is a fellow junior college player like Lamin and will vie for a spot on the defensive line. As the Gamecocks try to replace Clowney and Sutton on the edges, Thomas has a chance to earn some playing time right away.
With a really long body, Thomas should be disrupting opposing quarterbacks' vision in the pass rush.
While lacking some athleticism, Thomas makes up for it with his size and speed
Dante Sawyer
Dante Sawyer, 4-star WDE: 6'2.5", 262 pounds (Suwanee, Ga.)
Sawyer is one of the big gems of South Carolina's 2014 recruiting class. He's a Georgia native with a strong defensive end's body for an incoming freshman.
He is 6'2", which is slightly shorter than ideal, but he has good moves and is active with his hands. As a higher end, 4-star recruit, the bar is set high for Sawyer, who has some big shoes to fill.
Sawyer should have an early impact for his Gamecocks.
Michael Scarnecchia
Michael Scarnecchia, 3-star pro-style QB: 6'3", 185 pounds (Orange Park, Fla.)
South Carolina is pretty set at quarterback in the immediate and long-term future with guys like Dylan Thompson, Brendan Nosovitch and Connor Mitch, yet a team can never be too cautious with quarterbacks.
The South Carolina staff really likes Scarnecchia despite his low-profile recruiting journey.
He has the size to play quarterback but lacks a true presence right now.
Luckily for him, the Gamecocks don't need him right away and he has time to develop.
Shaq Davidson
Shaq Davidson, 4-star WR: 6'0", 170 pounds (Gaffney, S.C.)
Davidson is an offensive skill-player gem of the 2014 class.
He's not the tallest or fastest receiver, but this kid can flat out play.
Thompson has sure hands, smart moves, quick cuts and has a real passion for the position.
He committed to South Carolina during the summer of 2013, and this kid is clearly ready to get onto the field and show his stuff. Thompson should develop into a big-game receiver and might have a significant role in the offense early in his collegiate career with the departure of Bruce Ellington.
Terry Googer
Terry Googer, 3-star WR: 6'4", 209 pounds (Atlanta, Ga.)
Googer is one of those 3-star recruits who is a true athlete and a coach's dream. With experience as a wide receiver and quarterback, Googer is an offensive talent who pans out as a long-bodied wide receiver for the Gamecocks.
South Carolina needs to work with this kid's size. By teaching him how to use his body, Googer can turn into a consistent threat in the red zone or in jump-ball situations in the flat.
Tyshun Samuel
Tyshun Samuel, 3-star WR: 5'11", 180 pounds (Inman, S.C.)
Samuel is a wide receiver who is hovering between star ratings, well, to an extent. He's definitely not a high-profile recruit, but he does everything pretty well at the position.
His hands are his best attribute, though he runs decent routes and can make plays after the catch. Like I said, he isn't exceptional at anything, but he does everything pretty well.
There is always a place for players like Samuel on a college football team.
Kevin Crosby
Kevin Crosby, 4-star TE: 6'0", 236 pounds (Bamberg, S.C.)
South Carolina has been doing a great job of finding talent at tight end and developing kids into successful college players. Crosby will fit right into that scenario.
He's short—In fact, really short for a tight end. At six feet, he has more of a small linebacker build, which is a position he played in high school. But for South Carolina, he will play tight end.
Crosby is a solid blocker with a lot of athleticism at his size. But, his best attribute is without a doubt his hands. Crosby nets a perfect 10 on 247Sports.com, a rarity in the category, especially for a tight end.
While he makes sense as a blocker, Crosby's consistent hands will turn him into an offensive weapon outside of doing the dirty work for his team.
Kalan Ritchie
Kalan Ritchie, 3-star TE: 6'5", 210 pounds (Goose Creek, S.C.)
Where Crosby is the smaller, blocking tight end with great hands, Ritchie is the long-framed receiving threat. At 6'5", Ritchie makes sense as an option in the passing game.
He needs to bulk up significantly to battle inside with SEC defenses, though that will come in time.
Ritchie is more of a work in progress, but he has time since South Carolina is already loaded at tight end in 2014.
Malik Young
Malik Young, 3-star OG: 6'3", 277 pounds (Piedmont, S.C.)
Young is an offensive guard with good size for a freshman. He doesn't have the skills right now to be a big-time player at South Carolina, but that could change in time.
He needs to get stronger, work on his footwork and practice, practice, practice blocking schemes.
Young is raw, but he has a chance of developing into a depth offensive lineman or a starter late in his career.
Donell Stanley
Donell Stanley, 4-star OG: 6'4", 330 pounds (Latta, S.C.)
South Carolina has done a great job of recruiting and producing quality offensive linemen. Just look at Brandon Shell and A.J. Cann. In a couple years, we will hopefully be saying the same about D.J. Park and now Stanley.
Stanley is already huge, strong and has exceptional footwork for a big fella on the outside of the offensive line. What more could South Carolina ask for in an offensive tackle recruit?
For his talents to turn into success, Stanley needs to stay focused and keep on elevating his game to the next level.
Stanley will be the real deal.
Bryson Allen-Williams
Bryson Allen-Williams, 4-star OLB: 6'1", 222 pounds (Ellenwood, Ga.)
In every recruiting class, one player emerges as the spokesperson and leader of the incoming crew. The leader of the 2014 class is without a doubt Bryson Allen-Williams.
A longtime commit to the Gamecocks, Allen-Williams seemed like he was right there with the coaches trying to recruit players to his new school.
Beyond his leadership, Allen-Williams might be the most talented player of the 2014 recruiting class. And he meets a team need: linebacker.
The best way to describe Allen-Williams is to call him instinctual. He has a knack for finding the football and making plays on the ball.
He has average size right now, tackles well but moves even better.
Allen-Williams is a future force and anchor of the South Carolina defense.
Joe Blue
Joe Blue, 3-star ILB: 5'11", 235 pounds (Dillon, S.C.)
Blue has a great name. Joe Blue. Short and sweet.
He also possesses the skills to turn into a solid inside linebacker. He may only be a 3-star recruit, but Blue focuses on the fundamentals, and that can take a college player a long way.
He needs time to develop and the corps of linebackers are still young, so Blue has the time and structure to learn and earn his time on the field.
Al Harris
Al Harris, 3-star CB: 5'11", 160 pounds (Fort Lauderdale, Fla.)
No, this isn't the former Pro Bowl NFL player Al Harris. But, the two play the same position. So, maybe Al Harris will become Al Harris.
It's tough to tell right now, but one thing is certain about Harris: He fits a team need.
With a lack of depth at cornerback, Harris could be needed early on in his collegiate career. Like most corners from high school, Harris is raw, but has a nose for the football.
He also played at St. Thomas Aquinas, so he's played some tough competition during his high school days.
Darin Smalls
Darin Smalls, 3-star S: 5'11", 200 pounds (Summerville, S.C.)
Smalls has the range and speed to make it as a safety. It's going to be a couple of years before South Carolina fans see him work his way onto the field as the Gamecocks have young talent and depth at safety.
Smalls is considered a playmaking safety and was a fairly high-profile 3-star recruit, so this kid can play.
D.J. Smith
D.J. Smith, 4-star CB: 6'0", 191 pounds (Marietta, Ga.)
Smith is a recent commit to South Carolina and is one of the biggest recruits for the Gamecocks. It's no secret, South Carolina needs cornerbacks. Smith can have an immediate role on the team, even if South Carolina hauls in Chris Lammons and Wesley Green.
Smith is a pure tackler. Coming from the cornerback position, tackling is something that recruits lack, but that is not the case with Smith. He has good coverage instincts and has a long frame that is a major plus in college football.
Smith needs to get a bit faster or learn to use his feet better, but Smith is a solid recruit and could find some time on the field rather quickly.
Chris Lammons
Chris Lammons, 4-star CB: 5' 9.5", 170 pounds (Fort Lauderdale, FL)
Landing Lammons was a huge moment for the Gamecocks on National Signing Day. Wisconsin made a strong push for Lammons, though South Carolina prevailed in the end and hauled in a player that it really needed.
Lammons addresses the need for cornerbacks and provides the team with a highly skilled player despite being a little small.
In coverage, Lammons can obviously improve, though he athletic ability and speed to cover just about anyone. He is still raw and there is a lot of work for a cornerback in transitioning to the college level of play, but Lammons has the tools that can turn into success.
Dexter Wideman
Dexter Wideman, 4-star DT: 6'4", 255 pounds (Saluda, SC)
For a big chunk of the 2014 recruiting season, Wideman was committed to Florida State. In fact, he was committed to the Seminoles up until his huge National Signing Day switch and sign to South Carolina. And the Gamecocks couldn't be happier.
After losing Jadeveon Clowney, Chaz Sutton and Kelcy Quarles, the Gamecocks needed to revamp the defensive line. And they did with the addition of Wideman to the 2014 recruiting class.
Wideman needs to pack on some more muscle mass to have a bigger presence on the interior of the line, but he has the intangibles to become a major success in Columbia.
He plays with high intensity and has excellent footwork for an interior defensive lineman. Wideman is already strong and will only get stronger in time.
Wideman should develop into a real presence on the defensive line throughout his career.
Blake McClain
Blake McClain, 3-star SDE: 6'4", 280 pounds (Ponte Vedra Beach, FL)
McClain flip-flopped at the end of the recruiting season by committing and decommitting from Nebraska in the last few days. But, now his letter is signed and he is heading to South Carolina.
The Gamecocks continue to land defensive line recruits and McClain is not the highest profile recruit, but his size is already impressive.
McClain is quick off the attack, but he is not a true athlete and doesn't close out plays well. This will come in time.
McClain has his work cut out for him, but he has the body to have success at the college level.
Wesley Green
Wesley Green, 4-star CB: 5'11", 170 pounds (Lithonia, GA)
Green took his commitment decision down to the wire, but South Carolina doesn't care now that it landed him.
Green is the real deal. And better yet, South Carolina kept him away from Georgia.
He's not fast for a cornerback, but Green makes up for it with raw talent and natural ability to succeed at the position. While he lacks top end speed and that puts him at risk to get beat over the top by opposing wide receivers, Green has lateral quickness and sharp moves. Positioning himself with his quick steps can make up for his lack of speed.
Green tackles and covers well, too.
The Gamecocks made a big splash right at the end of the 2014 recruiting season.
Article: South Carolina Football Recruiting: Meet All the 2014 Commits