Welcome to Gamecock Fanatics
Register now to gain access to all of our features. Once registered and logged in, you will be able to create topics, post replies to existing threads, give reputation to your fellow members, get your own private messenger, post status updates, manage your profile and so much more. This message will be removed once you have signed in.
Login to Account
Create an Account
View Other Content
Search Articles
0
Rico Dowdle Named to Doak Walker Watch List
Gamecock football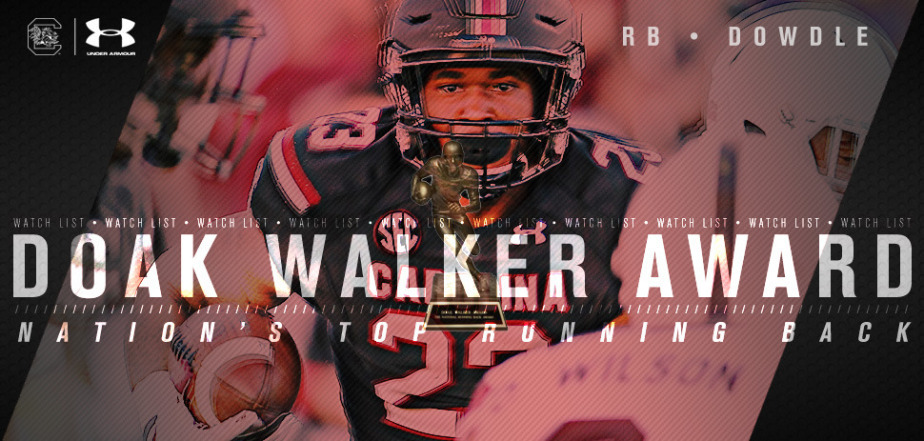 Rico Dowdle Named to Doak Walker Watch List
Sophomore Running Back Earns Preseason Recognition
GCF Staff Report
July 20, 2017
University of South Carolina sophomore Rico Dowdle has been named to the Doak Walker Award Watch List, it was announced today. The Doak Walker Award is presented annually to the nation's top college running back by the PwC SMU Athletic Forum.
Dowdle, a 5-11, 220-pounder from Asheville, N.C., started each of the final six games of the 2016 season and seven overall. He became the first true freshman to lead the Gamecocks in rushing since Marcus Lattimore in 2010, carrying a team-high 133 times for 764 yards. He was named to Athlon's All-SEC Freshman second team. Dowdle owns three 100-yard rushing games, including a career-best 226-yard performance against Western Carolina, the sixth-highest single-game total in school history.
The PwC SMU Athletic Forum Board of Directors will name ten semifinalists on November 15. Three finalists, as voted on by the Doak Walker Award National Selection Committee, will be announced November 20. The committee will cast a second vote beginning November 26 to determine the recipient. The National Selection Committee consists of past recipients, former NFL All-Pro and college All-America running backs, media members and selected special representatives.
The recipient of the 2017 Doak Walker Award will be announced live on The Home Depot College Football Awards on Thursday, December 7 on ESPN. The Doak Walker Award Presentation Banquet is scheduled for February 16, 2018 in Dallas.
The award, which will name its 28th recipient in 2017, is named for SMU's three-time All-America running back Doak Walker. It is the only major collegiate award that requires all candidates to be in good academic standing and on schedule to graduate within one year of other students of the same classification.
From USC Sports Information
Article: Rico Dowdle Named to Doak Walker Watch List