Welcome to Gamecock Fanatics
Register now to gain access to all of our features. Once registered and logged in, you will be able to create topics, post replies to existing threads, give reputation to your fellow members, get your own private messenger, post status updates, manage your profile and so much more. This message will be removed once you have signed in.
Login to Account
Create an Account
View Other Content
Search Articles
0
Gamecocks Home Opener to be Played Under the Lights
Gamecock football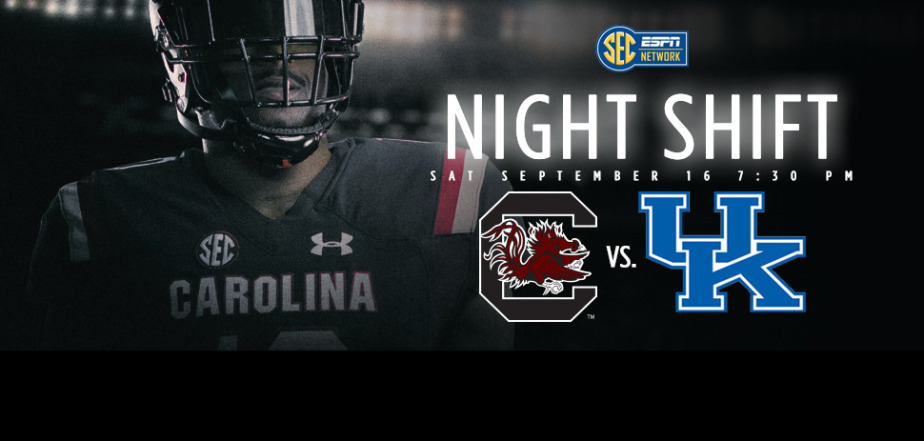 Gamecocks Home Opener to be Played Under the Lights
7:30 pm Kick Time Set for Kentucky Game on September 16
GCF Staff Report
July 25, 2017
The South Carolina football home opener will be played under the lights at Williams-Brice Stadium, it was announced today. The Gamecocks will host the Kentucky Wildcats in an SEC Eastern Division showdown at 7:30 pm on Saturday, September 16. The contest will be televised on SEC Network.
South Carolina leads the all-time series by a 17-10-1 count over Kentucky including an 8-4-1 mark in Columbia, but the Wildcats have won each of the last three meetings between the two schools, including a 17-10 decision in Lexington last season.
The Gamecocks will open the 2017 season in Charlotte on Saturday, September 2, against the NC State Wolfpack. Game time is set for 3 pm at Bank of America Stadium and the contest will be televised nationally on ESPN. The SEC opener will be Saturday, September 9, when Carolina travels to Columbia, Mo. to face the Missouri Tigers. That contest will be carried nationally on ESPN2, beginning at 7 pm ET.
Season tickets, as well as seats for the season opener at Bank of America Stadium in Charlotte, are still available. Visit GamecocksOnline.com/Tickets for more information.
Article: Gamecocks Home Opener to be Played Under the Lights