Welcome to Gamecock Fanatics
Register now to gain access to all of our features. Once registered and logged in, you will be able to create topics, post replies to existing threads, give reputation to your fellow members, get your own private messenger, post status updates, manage your profile and so much more. This message will be removed once you have signed in.
Login to Account
Create an Account
View Other Content
Search Articles
0
Defense Looks To Improve in Coach Muschamp's Second Season
armchairallamericans.com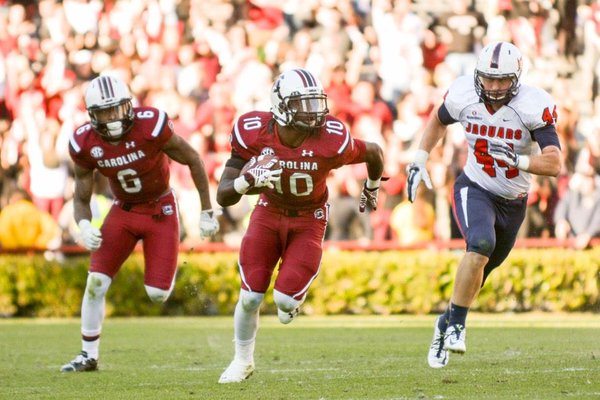 Defense Looks To Improve in Coach Muschamp's Second Season
Previewing the 2017 Gamecock defensive unit

By Chris Phillips -

August 2, 2017
What To Know…
South Carolina looks to improve on the defensive side of the ball in Year 2 of the Will Muschamp era. While the Gamecocks showed an increase in toughness and discipline last season, the numbers didn't reflect positively.
DC Travaris Robinson and company will look to turn around a unit that gave up over 400 YPG and 26 PPG. The Gamecocks mostly struggled against the run, giving up a whopping 203 YPG on the ground.
South Carolina loses five of it's top nine tacklers including . However, they do get a major boost in the return of veteran LB Skai Moore. Moore leads a group of LB's that are regarded the most deep and best position group on the defense. While Carolina does return a good core of players in the secondary, the focus will be on the defensive line to generate a pass rush and plug holes in the running game.
Depth Chart…
Why They'll Be Better…
The return of Skai Moore. LB Skai Moore returns this season after sitting out last year with a neck injury that caused him to redshirt. Before last season, Moore led the Gamecocks for three consecutive seasons in tackles and always showed a knack for the big play. His presence will be felt from a leadership perspective as well, as he will serve as the "quarterback" of the defense in his MLB position. Skai's ability to make the players around him better should be a huge boost to the defense and is one of the more underrated returns to this Gamecocks squad.
Why They'll Be Worse
Depth. While LB may be the most talented position group on the defense, it also appears to be the most thin. Coach Muschamp addressed the LB position on Media Day before fall practice by inviting all recruits who want to play at LB early for the Gamecocks to choose South Carolina. The back-ups to the starting three have never played a college snap and will need to step up early. The Gamecocks also remain thin at DL and will rely on a ton of newcomers behind their starting four. South Carolina will have to improve on their numbers from last year, when they had just 19.5 sacks and only 70 TFL. If South Carolina doesn't get production out of some young talent, it could be a long season on the defensive side of the ball in Columbia.
Prediction for 2017…
Bend but don't break. The Gamecocks should take a positive step in year two under Coach Muschamp, but it may not show on the stat sheet. South Carolina's defense wasn't always bad in 2016 but was exposed in games against high flying offenses Clemson and South Florida. The addition of LB Skai Moore will be huge for the group and he should make an immediate improvement to the Gamecocks defense. South Carolina's defensive fate will rest with the defensive line to generate a pass rush and stop the run. While the Gamecocks will have a ton of talent on the field when they kick off against NC State in Charlotte, look for the Gamecocks to experience some growing pains early in the season and improving as the year progresses.
Article: Defense Looks To Improve in Coach Muschamp's Second Season