Welcome to Gamecock Fanatics
Register now to gain access to all of our features. Once registered and logged in, you will be able to create topics, post replies to existing threads, give reputation to your fellow members, get your own private messenger, post status updates, manage your profile and so much more. This message will be removed once you have signed in.
Login to Account
Create an Account
View Other Content
Search Articles
0
Deebo Samuel Named to Biletnikoff Watch List
Gamecock football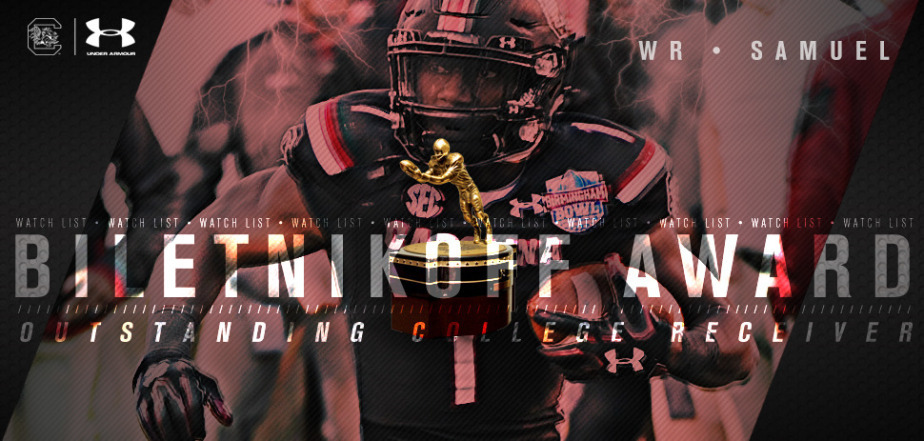 Deebo Samuel Named to Biletnikoff Watch List
Junior on List that Recognizes Nation's Top Receiver
GCF Staff Report
July 18, 2017
University of South Carolina junior wide receiver Deebo Samuel has been named to the 2017 Biletnikoff Award Preseason Watch List, the Tallahassee Quarterback Club (TQC) Foundation, Inc. announced today.
The Biletnikoff Award annually recognizes the outstanding receiver in college football. Any player, regardless of position (wide receiver, tight end, slot back, and running back) who catches a pass is eligible for the award. As such, the Biletnikoff Award recognizes the outstanding receiver, not merely the outstanding wide receiver. The award recipient is selected by the highly-distinguished Biletnikoff Award National Selection Committee, a group of prominent college football journalists, commentators, and former receivers.
Samuel, a 6-0, 215-pound junior from Inman, S.C., was named preseason first-team All-SEC as an all-purpose back and second-team as a kick returner by Athlon. The top returning receiver on the squad with 71 career catches for 944 yards, Samuel has scored nine career touchdowns - six on the ground, two receiving and one via kickoff return. He tied the school's single-game record with 14 receptions and set Birmingham Bowl records with 14 catches for 190 yards against USF. He previously was named to the Maxwell Award Watch List, which is given to America's College Player of the Year, and the Paul Hornung Award, given annually to the most versatile player in major college football.
Receivers are periodically added to the watch list as their season performances dictate. Actual, not potential, performance is the basis for inclusion on the Biletnikoff Award Watch List.
The 2017 Biletnikoff Award winner will be presented live on December 7, 2017, on The Home Depot College Football Awards Show to be broadcast 7:00 - 9:00pm (EST) on ESPN. College Football Hall of Famer, Heisman Trophy winner, and Biletnikoff Award voter Desmond Howard will present the 2017 Biletnikoff Award winner on the show. The 2017 Biletnikoff Award winner will be presented the Biletnikoff Award trophy by college and pro football hall of famers Fred Biletnikoff and keynoter Floyd Little before 550 patrons at the Biletnikoff Award Banquet at the University Center Club at Doak Campbell Stadium in Tallahassee on Saturday, February 10, 2018
The Tallahassee Quarterback Club Foundation, Inc., will announce the ten Biletnikoff Award semifinalists on November 13, 2017, following the vote by the members of the Biletnikoff Award National Selection Committee. Likewise, the three finalists will be declared, following another vote, on November 21, 2017. For complete details and updates of interest, together with weekly statistics and timely, important news of the Biletnikoff Award candidates, as well as a fan vote and discussion board, please consult the Foundation's highly informative website at BiletnikoffAward.com. The name Biletnikoff is synonymous with the term receiver. Fred Biletnikoff, a member of the pro and college football halls of fame, was an All-America receiver at Florida State University, and an All-Pro receiver for the Oakland Raiders. He caught 589 passes for 8,974 yards and 76 touchdowns in his 14-year Raiders career from 1965 through 1978. Fred was the Most Valuable Player of Super Bowl XI. The Tallahassee Quarterback Club Foundation (TQC), Inc., created the Biletnikoff Award in 1994.
Article: Deebo Samuel Named to Biletnikoff Watch List