Welcome to Gamecock Fanatics
Register now to gain access to all of our features. Once registered and logged in, you will be able to create topics, post replies to existing threads, give reputation to your fellow members, get your own private messenger, post status updates, manage your profile and so much more. This message will be removed once you have signed in.
Login to Account
Create an Account
View Other Content
Search Articles
0
Capital One Bowl 2014: Wisconsin vs. South Carolina TV Info, Predictions, More
Capital One Bowl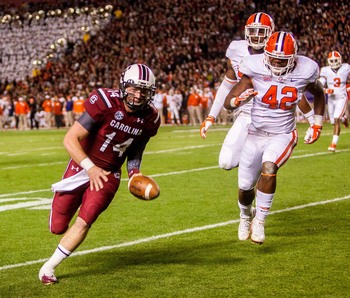 Capital One Bowl 2014: Wisconsin vs. South Carolina TV Info, Predictions, More
Dave Radcliffe
12/09/13
Two teams that fell just short of reaching a BCS bowl, the Wisconsin Badgers and South Carolina Gamecocks will face off in the Capital One Bowl on New Year's Day.
Based on how each team's regular season came to a close, the Badgers and Gamecocks are on the opposite ends of the spectrum. With a potential BCS berth on the line, Wisconsin laid an egg at home to Penn State to fall to 9-3, while South Carolina defeated rival Clemson by two touchdowns to improve to 10-2.
When we say this is an unfamiliar opponent on both sides, we mean it—the Badgers have never played South Carolina before.
It will make for an interesting matchup between coaches, as Gary Andersen is in his first season as a head coach at an automatic qualifying BCS conference school, while Steve Spurrier is one of the most respected and tenured coaches in the history of college football.
Of course, all eyes will be on Gamecocks defensive end Jadeveon Clowney, who is expected to enter the 2014 NFL draft and potentially be the No. 1 pick. For Wisconsin, it will rely heavily on its offensive line and running attack to put points on the board against a strong Gamecocks defense.
The Capital One Bowl could wind up being one of the more intriguing bowl games of the season. To get you geared up for this Big Ten vs. SEC showdown, continue on to mull over the complete game preview of Wisconsin and South Carolina.
Game Information

Time: Wednesday, Jan. 1, at 1 p.m. ET

Place: Citrus Bowl, Orlando, Fla.

TV: ABC

Radio: List of Wisconsin stations, list of South Carolina stations

Spread: South Carolina (-2.5)

Wisconsin's Keys to Victory
Get it done in the trenches
This could very well be the most difficult challenge yet for Wisconsin's offensive line. The Gamecocks were No. 2 in the SEC behind just Alabama when it came to stopping the run, and their defense can also get after the quarterback and defend the pass.
The Badgers' bread and butter is running the football—they have the No. 8 run offense in the FBS—and when they went away from pounding the rock this season, the Badgers found themselves in trouble. Being able to handle Jadeveon Clowney and Co. will be essential in Wisconsin's quest for victory.
Continue to handle dual-threats
The Badgers have seen their fair share of read-option looks and scrambling quarterbacks, and they will get one more on Jan. 1 when they go up against Connor Shaw. The senior quarterback is South Carolina's second-leading rusher this season.
Shaw also happens to be getting it done with his arm, which had been a criticized aspect of his game earlier in his collegiate career. He has thrown 21 touchdowns to just one interception, making for one of the best ratios in all of college football.
Wisconsin has had its issues on the back end of the defense, so it will have its hands full with Shaw and his dual-threat ability.
Don't put the game on Stave's shoulders
This builds off Wisconsin's first key to victory. If the Badgers fail to develop a consistent ground attack, they will be forced to go to the air more than they would prefer. That means putting the game on Joel Stave's right arm, which is a strategy that has put the Badgers in undesirable scenarios.
Stave's numbers aren't terrible, but when Wisconsin fails to run the football 40 times in a game, it is 0-3 this season. The Gamecocks only give up just over 200 passing yards per game, so should push come to shove, the Badgers may be out of luck trusting their fate to Stave.
South Carolina's Keys to Victory
Get Shaw going on the ground
Going up against a veteran Wisconsin front seven, it won't be easy for South Carolina to find much success running the football. But when there is more than the running back to account for, that's when things can get dicey for even the most experienced defenses.
As previously noted, the Badgers have gone up against several dual-threat quarterbacks this season and had success, for the most part, at limiting their running ability. Shaw can do it all for South Carolina, so the Badgers have to respect his arm while also accounting for his rushing.
Shaw had a season-best 94 rushing yards against Clemson to close out the regular season, and if he can come close to duplicating that effort against the Badgers, this game could get flat-out ugly.
Take advantage of rotating on defense
For as good as Wisconsin has been on defense this season behind a stout front seven and the gimmicks of new defensive coordinator Dave Aranda, its flaws were exposed against Penn State in the final game of conference play.
The Badgers rotate on defense after nearly every play, but when the Nittany Lions sped things up on offense, Wisconsin was caught off guard and at times didn't even have enough players on the field. Some no-huddle from the Gamecocks might not be a bad idea against a team that uses so many different personnel groups.
Stop the run
Sounds simple, yes, but South Carolina hasn't seen a rushing attack like that of Wisconsin's this season. On the flip side, the Badgers will be going up against a talented defense that was No. 2 at defending the run in the SEC.
That's nothing to scoff at, and if the Gamecocks are able to contain James White and Melvin Gordon, that almost secures a victory for the ol' head ball coach and South Carolina.
Players to Watch: Wisconsin
QB: Joel Stave
When you are a quarterback at Wisconsin (see depth cart here), odds are that you are the beneficiary of one of the best running games in college football. That has certainly been the case for Badgers quarterback Joel Stave, who has thrown for 2,414 yards and 20 touchdowns this season.
The Badgers are going to find themselves in a dogfight against the Gamecocks, and it won't be easy to simply rely on running the football. Wisconsin needs to get Stave in a groove via the play-action pass and avoid turning the football over through the air, because mistakes against a team like South Carolina are rarely easy to recover from.
S: Tanner McEvoy
Anyone have a guess as to where junior college commit, quarterback-turned-safety Tanner McEvoy began his college career? You'd be correct if you said South Carolina.
Well, in his first season with the Badgers, McEvoy will be going up against the coach and team that recruited him three years ago—and doing it at a different position. After suffering a wrist injury during the preseason, McEvoy eventually found his way over to the defensive side of the ball and has performed well at his new position.
McEvoy and the Wisconsin secondary will have their hands full with Connor Shaw, and McEvoy will rotate with players like Nate Hammon and Michael Caputo throughout the afternoon.
LB: Chris Borland
The recently named B1G Linebacker and Defensive Player of the Year, Chris Borland was still able to bring home some hardware and make the Butkus Award finalist list despite missing out on the better part of two games.
The senior linebacker is the biggest reason why Wisconsin has had success defending the run and keeping dual-threat quarterbacks in check. Just watch how Borland plays the game and is able to meet ball-carriers in the hole on nearly every play. He can seemingly be everywhere on the field at any time, and he will present some issues for South Carolina because of his tenacious approach.
Players to Watch: South Carolina
DE: Jadeveon Clowney
Not to watch Jadeveon Clowney is to make a huge mistake, as you would likely be missing out on the South Carolina (see depth chart here) defensive end's final collegiate game. In fact, you would be missing out on watching who many believe to be the top prospect in all of college football.
Clowney has been hindered by multiple injuries this season and his numbers don't jump out off the page at you. But because of all the attention Clowney requires, he opens up opportunities for his teammates, which overall has made the Gamecocks a top-20 defense.
The Badgers have some excellent blocking tight ends who will need to stay home to help their offensive tackles, which is probably the weakest area of Wisconsin's offensive line. It will limit what Wisconsin wants to do on offense, but that's the price you pay when going up against Clowney.
RB: Mike Davis
There will be some terrific running backs on display at the Citrus Bowl come New Year's Day, and we're not just talking about Wisconsin's James White and Melvin Gordon. The Gamecocks are paced by sophomore tailback Mike Davis on the ground, and he has rushed for 1,134 yards and 11 touchdowns this season.
Davis has slowed down a bit toward the end of the season and has a tall task ahead of him going up against a strong Wisconsin front seven. Shaw's running threat will aid Davis to a degree, but Davis hasn't faced a run defense like this all season, so it could be a frustrating day for the sophomore.
DT: Kelcy Quarles
It's not fair to Kelcy Quarles to say he is simply a beneficiary of Clowney's presence on the defensive line. Sure, it doesn't hurt, but Quarles has been making offenses pay and picked up the slack for Clowney's lack of production at times this season.
The junior defensive tackle leads the team in sacks with 9.5, which is also good for No. 17 in the FBS. Quarles also leads South Carolina in tackles for a loss (13.5) and will be a challenge for Wisconsin's interior linemen, including freshman center Dan Voltz.
What They Are Saying
Capping off the regular season with a disappointing loss on senior day, Wisconsin feels like it has some unfinished business:
This quote from Steve Spurrier, per Josh Kendall of The State, just goes to show the importance of Connor Shaw to the South Carolina offense and perhaps how vulnerable the Gamecocks will be against an excellent Wisconsin front seven
Prediction
A Big Ten team hasn't won the Capital One Bowl since 2010 when Penn State edged out LSU, although the Badgers won back-to-back Capital One Bowls, taking care of Auburn and Arkansas in 2006 and 2007, respectively.
The last visit to Orlando for the Gamecocks was 2012 when they handled Nebraska after pulling away in the final quarter. South Carolina and Wisconsin have each turned themselves into proud college football programs that are consistently ranked year in and year out, but each team is just a notch below becoming an elite program.
During the bowl season, nearly everything can be thrown out the window. But this one figures to be a tooth-and-nail, down-to-the-final-whistle type of game between two evenly matched teams.
That would tend to be a problem for Wisconsin, a team that typically finds itself on the wrong side of the win-loss column when involved in close games. The Badgers are also going up against a tough run defense, which spells trouble for a team so reliant on moving the football on the ground and imposing its will in the trenches.
It's no secret that the Big Ten isn't what it once was while the SEC continues to reign supreme in college football. This simply isn't a favorable matchup for Wisconsin—the Gamecocks, led by Connor Shaw and Jadeveon Clowney, should win their second Capital One Bowl in three years.
Prediction: South Carolina 33, Wisconsin 27
Article: Capital One Bowl 2014: Wisconsin vs. South Carolina TV Info, Predictions, More