Welcome to Gamecock Fanatics
Register now to gain access to all of our features. Once registered and logged in, you will be able to create topics, post replies to existing threads, give reputation to your fellow members, get your own private messenger, post status updates, manage your profile and so much more. This message will be removed once you have signed in.
Login to Account
Create an Account
View Other Content
Search Articles
0
Silva Named To SEC Coaches Preseson All- SEC Second Team
Mens Gamecock Basketball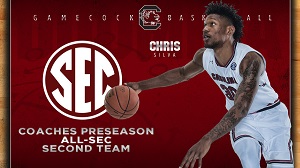 Silva Named To SEC Coaches Preseson All- SEC Second Team
Junior forward and the Gamecocks set to open season Friday night at Wofford.
GCF Staff Report
November 10, 2017
COLUMBIA, S.C. -- Junior forward Chris Silva was named to the SEC Coaches Preseason All-SEC Second Team, the conference office announced on Friday morning ahead of the official start of the 2017-18 campaign. Silva is Carolina's top returning scorer (10.2), rebounder (6.1) and shot blocker (1.4) and a veteran leader of this year's squad.
Silva posted 21 double-figure scoring games last season with five double-doubles, including in South Carolina's Final Four matchup versus Gonzaga when he scored 13 points and pulled down a career-high 13 rebounds. In league play in 2017, Silva averaged 10.6 points and 5.0 rebounds per outing, while hitting 54.7 percent from the field.
South Carolina begins the 2017-18 campaign on Friday night when it travels to face Wofford at 7 p.m. ET. The contest, which will be held at the newly constructed Jerry Richardson Indoor Stadium in Spartanburg, will be available on ESPN3.
The full SEC Coaches Preseason teams are listed below.
First Team All-SEC
KeVaughn Allen – Florida
Yante Maten – Georgia
Kevin Knox – Kentucky
Deandre Burnett – Ole Miss
Quinndary Weatherspoon – Mississippi St.
Michael Porter, Jr. – Missouri
Tyler Davis – Texas A&M
Robert Williams – Texas A&M
Matthew Fisher-Davis – Vanderbilt
Second Team All-SEC
Braxton Key – Alabama
Collin Sexton – Alabama
Jaylen Barford – Arkansas
Daryl Macon – Arkansas
Mustapha Heron – Auburn
Chris Chiozza – Florida
Terence Davis – Ole Miss
Hamidou Diallo – Kentucky
Chris Silva – South Carolina
Grant Williams – Tennessee
Article: Silva Named To SEC Coaches Preseson All- SEC Second Team