Welcome to Gamecock Fanatics
Register now to gain access to all of our features. Once registered and logged in, you will be able to create topics, post replies to existing threads, give reputation to your fellow members, get your own private messenger, post status updates, manage your profile and so much more. This message will be removed once you have signed in.
Login to Account
Create an Account
View Other Content
Search Articles
0
Silva Leads Gamecocks To 71-60 Win Over Vanderbilt With Videos, Gallery, Stats & More
Gamecock basketball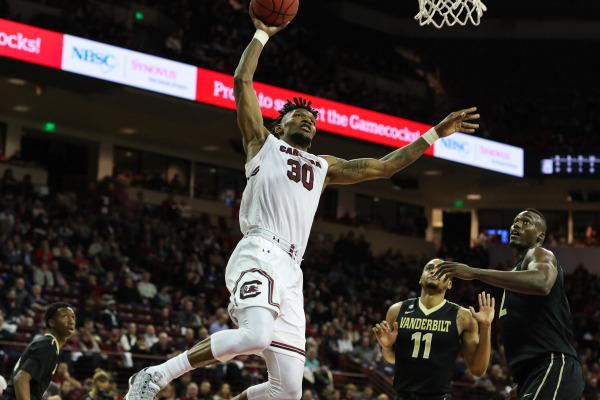 Silva Leads Gamecocks To 71-60 Win Over Vanderbilt With Videos, Gallery, Stats & More
Junior big man scored 27 points for new career high
GCF Staff Report
Jan. 06, 2018
Men's Basketball vs. Vanderbilt
Photo Gallery
/ Photo Gallery
/ @GamecockMBB / Final Box/ Final Stats

GAMECOCK STAT LEADERS
Points: Chris Silva (27)
Rebounds: Chris Silva (8)
Assists: Felipe Haase (2)
Steals: Frank Booker (3)
Blocks: Four tied (1)
Minutes: Justin Minaya, Chris Silva (31)


HIGHLIGHTS: Men's Basketball vs. Vanderbilt — 1/6/18

POSTGAME: Frank Martin on Vanderbilt — 1/6/18

POSTGAME: Wesley Myers, Chris Silva on Vanderbilt — 1/6/18
COLUMBIA, S.C. (AP) Chris Silva scored a career-high 27 points and had eight rebounds and South Carolina beat Vanderbilt 71-60 on Saturday for its first Southeastern Conference win of the season.
The Gamecocks (10-5, 1-2) entered with back-to-back losses to Mississippi and Missouri. Vanderbilt, which fell to 6-9 overall, is 1-2 in SEC play.
South Carolina outscored the Commodores by 13 after halftime, thanks mostly to Silva and guard Wesley Myers, who scored all of his 17 points in the second half.
Vanderbilt, which led 28-26 at halftime, closed to 48-45 on Jeff Roberson's free throws with 8:21 to play, but Silva made five straight free throws and the Gamecocks began to pull away, finishing with 10 free throws in the final 58 seconds.
It was a cold-shooting affair from the get-go. The Commodores made just 8 of 23 first-half field goals to South Carolina's 10 of 28. The teams combined for more fouls (20) than made field goals (18) in the opening 20 minutes.
Saben Lee scored 17 points, Matthew Fisher-Davis added 12 and blocked four shots, and Djery Baptiste scored 10 points with three steals for Vanderbilt.
BIG PICTURE
South Carolina: The Gamecocks badly needed a win after dropping its initial two SEC games. With back-to-back road games against Alabama and Georgia up next, the team was in danger of dropping out of the league race early.
Vanderbilt: The loss was disappointing for a Vanderbilt squad that has struggled throughout the season but hoped to build on a win against Alabama in its last game.
KEY STAT
The Gamecocks defense showed out, forcing 19 turnovers (most since Western Michigan on Nov. 19) while holding the Commodores to 35 percent shooting (19-for-54).
NOTABLE
Junior guard Hassani Gravett missed his third straight contest with a sprained right ankle.

Today's contest marked junior forward Chris Silva's ninth game this season with at least eight free throw attempts, and his seventh game with double-digit free throw attempts. He went 9-for-12 from the foul line Saturday night, his seventh game with at least eight makes at the charity stripe in 2017-18.

Silva dropped a new career-high 27 points in 31 minutes. His previous career-high was 26 in the team's blowout win at FIU (Nov. 27).

Graduate transfer guard Wesley Myers scored a season-high 17 points, all coming in the second half on Saturday. He went 8-for-12 at the foul line in tonight's game.

Sophomore wing Evan Hinson started his first career game as a Gamecock. He scored a career-high six points in 13 minutes.
UP NEXT
South Carolina is on the road for two matchups next week, first at Alabama on Tuesday (Jan. 9), before traveling to Georgia for weekend action (Jan. 13). Tom Hart (play-by-play) and Jon Sundvold (analyst) will have the call for the matchup versus the Crimson Tide on Tuesday. Tip time is set for 7 p.m. ET on the SEC Network.
From USC Sports Information
Article: Silva Leads Gamecocks To 71-60 Win Over Vanderbilt With Videos, Gallery, Stats & More