Welcome to Gamecock Fanatics
Register now to gain access to all of our features. Once registered and logged in, you will be able to create topics, post replies to existing threads, give reputation to your fellow members, get your own private messenger, post status updates, manage your profile and so much more. This message will be removed once you have signed in.
Login to Account
Create an Account
View Other Content
Search Articles
0
Men's Hoops Set To Host Wyoming Wednesday
Gamecock basketball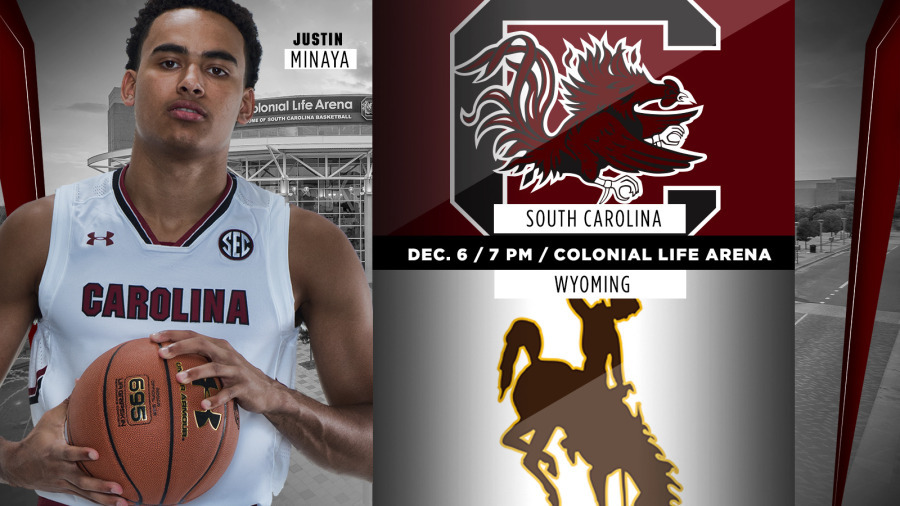 Men's Hoops Set To Host Wyoming Wednesday
Gamecocks and Cowboys tip off at 7 p.m. ET at Colonial Life Arena.
Dec. 5, 2017
South Carolina vs Wyoming
Game Notes / Watch / Live Stats / Clear Bag Policy / Twitter / Instagram / Facebook / Ticket Information

GAME INFO
Date: Wednesday, Dec. 6, 2017
Tipoff: 7 p.m.
Location: Columbia, S.C.
Arena: Colonial Life Arena (18,000)
Broadcast: SEC Network+
Tickets: GamecocksOnline.com/1-800-4SC-FANS


COLUMBIA, S.C. -- South Carolina continues its homestand on Wednesday when Wyoming visits Colonial Life Arena for a non-conference matchup with the Gamecocks. Wyoming is led by former Kentucky standout, Allen Edwards, who also played high school basketball for Carolina head coach Frank Martin in Miami.
STARTING FIVE
South Carolina welcomes Wyoming to Colonial Life Arena on Wednesday. The Cowboys are led by former Kentucky standout Allen Edwards, brother of Gamecock staff member Doug Edwards, and former student-athlete under Frank Martin at Miami Senior High School.

South Carolina is undefeated this season when scoring 70 or more points, and is a combined 23-4 when scoring 70 or more dating back to the start of the 2016-17 campaign.

Rookie forward Felipe Haase pulled down a team high 11 rebounds, adding 10 points on the offensive end vs. UMass for the first double-double of his career. He is averaging 6.9 points, and is second on the team with 5.3 rebounds per game this season.

Freshman forward Justin Minaya led Carolina with 17 points vs. UMass. He has now reached double figures in four of the last five games.

Entering Wednesday's matchup vs. Wyoming, South Carolina is second in the SEC, allowing opponents to score just 63.8 points per game.
SCOUTING THE GAMECOCKS
South Carolina looks to continue its winning ways at home, with two matchups at Colonial Life Arena this week, first Wednesday's game vs. Wyoming, before welcoming Coastal Carolina to the gym on Saturday.

The Gamecocks rebounded from the Temple loss to post a 76-70 win over UMass at Colonial Life Arena last Saturday. It was just Carolina's second home game of the 2017-18 campaign.

Rookie forward Justin Minaya led the Gamecocks with a season high 17 points in the win vs. UMass. He now has double figures in four of the last five games.

Junior forward Chris Silva's 7.6 rebounds per game rank eighth in the SEC. He has collected seven or more rebounds in five games this season.

Sophomore forward Maik Kotsar has played well early on this season. He matched his career high with three steals twice last week - at FIU and vs. UMass - and he paces Carolina in the category with 2.0 per game, which ranks third in the SEC.

South Carolina hit 50.9% from the field vs. UMass - 28-of-55 from the floor. It marked the second time last week the Gamecocks hit 50% or better, as the squad posted a season high 52.5% (32-61) in the win at FIU.
SCOUTING WYOMING
Wyoming is led by former Kentucky standout Allen Edwards in his second season.

The Cowboys won the 2017 CBI title last season with an 83-59 win over Coastal Carolina. Wyoming was 25-13 overall last season.

The Cowboys are also 6-2 on the year after posting a 96-89 win in double-overtime vs. Drake last Saturday.

Senior forward Alan Herndon led Wyoming in that win with 32 points, while senior forward Hayden Dalton (17 points/14 rebounds) and junior guard Justin James (24 points/12 rebounds) both posted double-doubles.

James was the Mountain West Sixth Man of the Year last season.

Wyoming is averaging 41.7% from the floor this season, including 34.7% from 3-point range. The Cowboys average 9.5 made 3s per game.

Three average double-figures, led by Dalton's 16.5 per game. Herndon (14.0) and James (14.1) also average double-figures after their performance vs. Drake.

Wyoming is 1-1 on the road this season.
THE SERIES
The all-time series between Wyoming and South Carolina is tied at 1-1.

The series dates back to a 78-67 Carolina win in Columbia over the Cowboys on Dec. 21, 2000

Wyoming evened the series with a 77-63 win in Laramie on Dec. 19, 2002.
BY THE NUMBERS
2.8 - Junior guard Hassani Gravett ranks fourth in the SEC (games through Dec. 4) with an assist to turnover ratio of 2.8.

3 - Grad transfer guard Frank Booker has 19 3s on the year, which is a team high. He has hit three 3s in five of Carolina's eight games this season.

6-3 - South Carolina was 6-3 last season in games against opponents ranked in the top 25.

+7.8 - South Carolina currently ranks fifth in the SEC (games through Dec. 4) with a rebound margin of +7.8. The Gamecocks most recently out-rebounded UMass, 36-26, last Saturday.

8+ - South Carolina has posted at least eight made 3-pointers in six games this season.

18 - Junior forward Chris Silva is just 18 blocks away from cracking the Gamecock career top-10 in the category.
UP NEXT
South Carolina is set to host Coastal Carolina on Saturday for "Star Wars" day at Colonial Life Arena. Tip-off is set for Noon vs. the Chanticleers. Coastal is currently 4-4 on the year, and will host Hampton on Wednesday. Mike Morgan (play-by-play) and Brooke Weisbrod (analyst) will have the call on the SEC Network.
From USC Sports Information
Article: Men's Hoops Set To Host Wyoming Wednesday