Welcome to Gamecock Fanatics
Register now to gain access to all of our features. Once registered and logged in, you will be able to create topics, post replies to existing threads, give reputation to your fellow members, get your own private messenger, post status updates, manage your profile and so much more. This message will be removed once you have signed in.
Login to Account
Create an Account
View Other Content
Search Articles
0
Gamecocks Face Off Against Kentucky On Super Tuesday
Gamecock Mens Basketball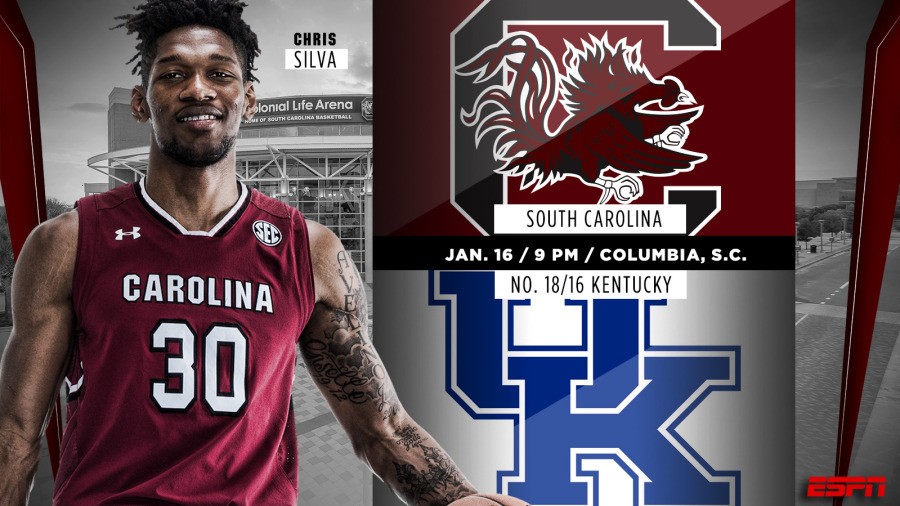 Gamecocks Face Off Against Kentucky On Super Tuesday
Tip time set for 9 p.m. ET vs. Kentucky
GCF Staff Report
January 15, 2018
South Carolina vs. Kentucky
Game Notes / Watch / Live Stats / Clear Bag Policy / Promotions / Twitter / Instagram / Facebook / Ticket Information

Men's Basketball - Frank Martin Previews Kentucky

Men's Basketball - Gravett and Minaya Preview

GAME INFO

Date: Tuesday, Jan. 16, 2018
Tipoff: 9 p.m.
Location: Columbia, S.C.
Arena: Colonial Life Arena (18,000)
Broadcast: ESPN
Play-By-Play: Joe Tessitore
Analyst: Sean Farnham
Sidelines: Laura Rutledge
Series: Kentucky leads 50-11
Tickets: GamecocksOnline.com/1-800-4SC-FANS
COLUMBIA, S.C. -- South Carolina begins a two-game homestand on Tuesday hosting No. 18/16 Kentucky at Colonial Life Arena. Tip time is set for 9 p.m. ET on ESPN's Super Tuesday broadcast.
STARTING FIVE
South Carolina snapped a three-game road losing streak with a 64-57 win in Athens over Georgia on Saturday. Graduate student guard Frank Booker (17) and fellow Georgia native, Hassani Gravett (11) combined for 28 points off the bench and the Gamecocks overcame a poor shooting performance (just 27.1% from the field), to clinch the win.

Junior forward Chris Silva hit just 3-of-10 from the floor, but he was 8-of-10 from the foul line, finishing with 14 points, nine rebounds, four assists (career high) and two blocks against the Bulldogs.

Booker connected on two clutch 3s late in the win at Georgia, marking his 11th game this season hitting multiple 3s. South Carolina is 10-1 in those contests.

South Carolina held Georgia to just 57 points on Saturday, marking the ninth opponent that the Gamecocks have held below 65 points this season. The Gamecocks rank second in the SEC and 33rd nationally in scoring defense, as opponents average just 65.1 points per game.

The Gamecocks are 6-1 in home games this season, averaging 75.3 points per game, while holding opponents to 65.1 points per game at home. Carolina also holds a strong +7.6 rebound margin in home

games,

and holds opponents to just 38.6 percent from the field and 35.7 percent from 3-point range.
HEADLINES
South Carolina is in its 110th season of varsity basketball in 2017-18.

South Carolina advanced to its first Final Four in 2016-17, which included posting its first NCAA Tournament win since the 1973 campaign when it tallied a 93-73 win over Marquette in the First Round.

The Gamecocks finished the 2016-17 campaign with a 26-11 overall record. The 26 wins were a program record.

Among active Division I head coaches, South Carolina's Frank Martin holds the sixth-highest NCAA Tournament winning percentage (.667) behind only Duke's Mike Krzyzewski, North Carolina's Roy Williams, Kentucky's John Calipari, Michigan State's Tom Izzo and Kansas' Bill Self.

Over the course of the last three seasons (2015-16-present), the Gamecocks are 25-19 (.568) combined in games played away from home (away/neutral).

South Carolina compiled 51 wins over the course of the 2015-16 and 2016-17 seasons.

Entering the 2017-18 campaign, Frank Martin has led his team to at least 20 wins in seven of 10 seasons.

South Carolina played six of its first seven games away from home to begin the 2017-18 campaign, posting a 4-2 record during the stretch.

Martin is joined on the bench by assistant coaches Perry Clark (fifth season), Chuck Martin (first season) and Bruce Shingler (second season), and director of basketball operations Andy Assaley in his sixth season.

Clark brings 19 years of head coaching experience to the bench, as he served the combined years as head coach at Tulane, Miami (Fla.) and Texas A&M Corpus Christi, while Chuck Martin served as head coach at Marist for five campaigns.

Martin is 90-87 (.506) all-time in league play. In his 10 seasons leading a squad through a full slate of league games, his team has posted double-digit conference wins six times.

South Carolina has improved its conference record in each of Frank Martin's five seasons leading the squad through the SEC slate. In his first SEC campaign (2013), Martin led his squad to four wins, followed by five win

sin

2014, six in 2015, 11 in 2016 and 12 last season.

South Carolina is in its 26th basketball season as a member of the Southeastern Conference. The Gamecocks are 169-262 (.392) all-time in SEC games.

South Carolina has 14 games missed to injury this season: Hassani Gravett (3/right ankle sprain); Kory Holden (6/hamstring injury); David Beatty (1/elbow injury); Tommy Corchiani (4 games/left knee injury).
SCOUTING THE GAMECOCKS
South Carolina owns an 11-6 overall record this season and a 2-3 mark in SEC games after splitting a pair of road contests last week, suffering a 76-62 loss at Alabama, before posting a big 64-57 road win at former SEC East foe Georgia on Saturday.

South Carolina is 6-1 in games played at home this season, most recently posting a 71-60 win over Vanderbilt on Jan. 6.

Graduate student guard Frank Booker hit a pair of clutch 3s in the second half at Georgia, the first breaking a 49-all lead, and the second pushing Carolina's lead to nine with 1:22 to play. He had 17 for the game, his second-highest output of the SEC campaign.

Booker's seven rebounds in the win at Georgia also marked a career high.

Juinor guard Hassani Gravett looks back to full speed after missing the first three league games due to a sprained right ankle. Gravett hit a pair of 3s in the win at

Georgia,

and was 5-of-6 at the free throw line, including some late to help clinch the win.

Junior forward Chris Silva paces the Gamecocks with 14.2 points and 7.9 rebounds per game this season. He tallied 14 points, pulled down a

team high

nine rebounds and also dished a

career best

four assists in the victory at Georgia.

In home games, Silva's 15.3 points and 7.6 rebounds per game are team highs. Booker (12.0) and Gravett (10.6) both also average double-figure points in home contests.

In the SEC stats (overall games), South Carolina is second in scoring defense (65.1), fifth in rebounding offense (38.6), seventh in turnover margin (+1.8) and tied for third with 12.5

offense

rebounds per game.
SCOUTING THE WILDCATS
Kentucky enters Tuesday night's matchup with a 14-3 overall record and a 4-1 mark in SEC games.

The Wildcats are led by head coach John Calipari in his ninth season.

Most recently

UK

posted a 74-67 win on the road at Vanderbilt behind a

game high

22 points from Shai Gilgeous-Alexander. He hit 7-of-11 from the floor and 7-of-10 from the free throw line. He also had six assists in 39 minutes of action.

Kentucky's other three SEC wins this season are vs. Georgia, at LSU and vs. Texas A&M.

Five average double-figure points for the Wildcats, led by freshman forward Kevin Knox's 14.2 per game. Hamidou Diallo (13.8), Gilgeous-Alexander (12.4), PJ Washington (11.0) and Quade Green (10.7) also average double-figures.

Kentucky hit 53.5% (24-43) from the field in the win at

Vanderbilt,

and held the Commodores to just 38.2%.

In the SEC stats (overall games), Kentucky is third in field goal percentage (48.8), seventh in field goal percent defense (41.0), first in 3-point field goal percent defense (29.4), and fifth in blocked shots (5.5).

The Wildcats are 2-1 in road games this season, with both wins in SEC play, at LSU and at Vanderbilt.

Kentucky is 3-3 in games played away from home, with a neutral site win vs. Monmouth, and neutral site losses vs. Kansas and UCLA.
BY THE NUMBERS
6-3 - South Carolina was 6-3 last season in games against opponents ranked in the top 25.

8+ - South Carolina has posted at least eight made 3-pointers in 10 of 17 games this season.

+7.6 - Carolina holds a +7.6 rebound margin over its opponent in home games this season.

7 - Junior forward Chris Silva is just seven blocks away from cracking the Gamecock career top-10 in the category.

7 - South Carolina committed a

season low

seven turnovers in the win at Georgia, and the Bulldogs scored just six points off of those turnovers, which matched an opponent season low in the category.

70+ - South Carolina is 10-0 this season when scoring 70 or more points. Since the beginning of the 2016-17 campaign, the Gamecocks are 27-4 when scoring 70 or more.
SERIES INFORMATION
Kentucky leads the all-time series with South Carolina 51-11, including a 22-7

upperhand

in games played in Columbia.

The Wildcats have won four straight in the series, including two straight in Columbia.
UP NEXT
South Carolina continues its homestand on Saturday when No. 21/21 Tennessee travels to Columbia. Tip time vs. the Vols is set for 6 p.m. ET on ESPN2 with Beth Mowins (play-by-play) and Jimmy Dykes (analyst) on the call.
From USC Sports Information
Article: Gamecocks Face Off Against Kentucky On Super Tuesday