Welcome to Gamecock Fanatics
Register now to gain access to all of our features. Once registered and logged in, you will be able to create topics, post replies to existing threads, give reputation to your fellow members, get your own private messenger, post status updates, manage your profile and so much more. This message will be removed once you have signed in.
Login to Account
Create an Account
View Other Content
Search Articles
0
Gamecocks Come up Short In Overtime At Mississippi State
Gamecock basketball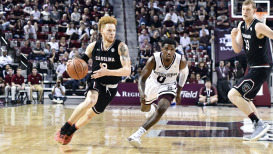 Gamecocks Come up Short In Overtime At Mississippi State
Hassani Gravett scored a career-high 19 points
GCF Staff Report
Feb. 24, 2018
South Carolina at Mississippi State
Photo Gallery / ​@GamecockMBB / Final Box / Final Stats / Photo Gallery
/ Photo Gallery

GAMECOCK STAT LEADERS
Points: Hassani Gravett (19)
Rebounds: Chris Silva (12)
Assists: Hassani Gravett (3)
Steals: Justin Minaya (2)
Blocks: Chris Silva (3)
Minutes: Hassani Gravett (41)

STARKVILLE, Miss. (AP) Lamar Peters had 19 points, including five in overtime, to lead Mississippi State past South Carolina 72-68 on Saturday.
Tyson Carter and Quinndary Weatherspoon had 13 points apiece for Mississippi State (21-8, 9-7 SEC). Nick Weatherspoon also had 10 points for the Bulldogs before fouling out in the second half. Quinndary Weatherspoon hit two free throws with 6.8 seconds left in overtime to clinch the win for Mississippi State.
Hassani Gravett had 19 points to lead South Carolina (15-14, 6-10) and added three assists and a steal. Gravett's 3-pointer at the end of the second half sent the game into overtime. Chris Silva had 11 points and 12 boards despite battling foul trouble. Maik
Kotsaw
and Felipe Haase also had 11 points for South Carolina.
The visiting Gamecocks jumped on Mississippi State early and held an 11-2 advantage in the game's opening six minutes. South Carolina stretched the lead to 13 points with 6:07 remaining in the first half.
Mississippi State responded with an 11-2 run to close the deficit to 26-22. Gravett, however, sank back-to-back 3 pointers for the Gamecocks to push the lead back to 32-22. Mississippi State's Tyson Carter responded with a 3 pointer to end the first half and South Carolina held a 32-25 lead at the break.
The Bulldogs shot just 33.3 percent in the first half while South Carolina shot 46.2 percent from the field. The Bulldogs were just 2 of 10 beyond the arc and had eight turnovers in the first half. The Gamecocks were 11-0 this year when leading at halftime.
BIG PICTURE
South Carolina: The Gamecocks have now lost four straight games on the road and finish their road schedule next week.
Mississippi State: The Bulldogs have now won seven of their nine games to keep NCAA Tournament hopes alive. The 21 wins mark the most by the Bulldogs since winning 21 in the 2011-12 season.
KEY STAT
The Gamecocks had a season-high 21 turnovers (13 in the second half and overtime), leading to 22 points for the Bulldogs.
NOTABLE
Today was South Carolina's first overtime game of the 2017-18 season and its first since a 90-86

four overtime

loss to Alabama at home last February.

Redshirt junior guard Hassani Gravett tallied new career highs for points (19), made field goals (8) and minutes (41). He sent the game to overtime with his third 3-pointer of the game as time expired in the second half.

Junior forward Chris Silva posted his seventh (12th career) double-double of the season after scoring 11 points and pulling down 12 rebounds, one shy of tying a single-game career high.

Freshman forward Felipe Haase followed up a strong 12-point outing vs. Georgia with 11 points in 26 minutes off the bench Saturday. He also had six rebounds.
UP NEXT
South Carolina returns to Colonial Life Arena on Wednesday for Senior Night vs. LSU. The meeting will be the first between the two schools this season. Roy Philpott (play-by-play) and Brooke Weisbrod (analyst) will have the call for the 6:30 p.m. ET, SEC Network broadcast.
From USC Sports Information
Article: Gamecocks Come up Short In Overtime At Mississippi State