Welcome to Gamecock Fanatics
Register now to gain access to all of our features. Once registered and logged in, you will be able to create topics, post replies to existing threads, give reputation to your fellow members, get your own private messenger, post status updates, manage your profile and so much more. This message will be removed once you have signed in.
Login to Account
Create an Account
View Other Content
Search Articles
0
Gamecocks Beat UMASS 76-70 With Videos, Gallery, Stats & More
Gamecock basketball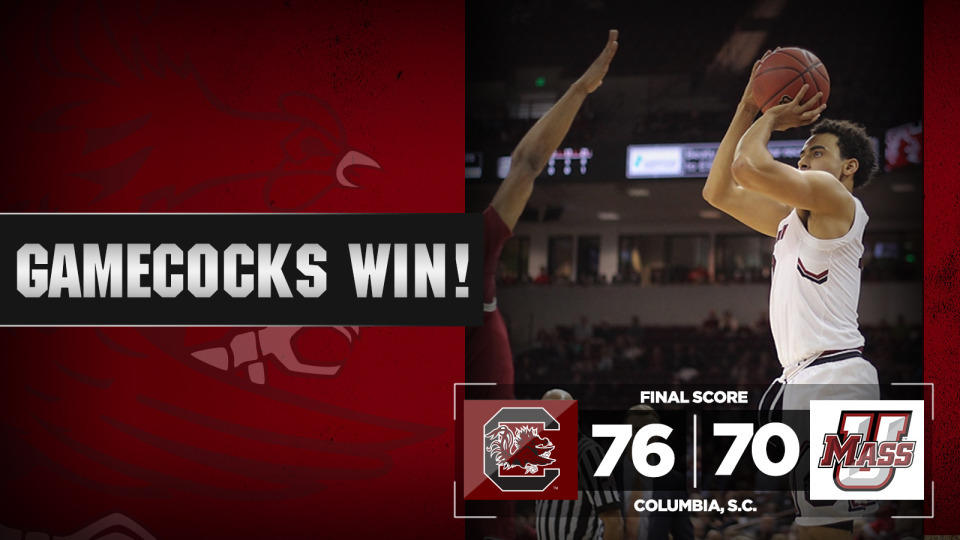 Gamecocks Beat UMASS 76-70 With Videos, Gallery, Stats & More
Justin Minaya led the team with a career-high 17 points on Saturday
GCF Staff Report
December 02, 2017

RECAP: Men's Basketball vs. UMass — 12/2/17

POST-GAME: Frank Martin on UMass — 12/2/17
South Carolina vs. UMASS
Photo Gallery / @GamecockMBB / Final Box / Final Stats

GAMECOCK STAT LEADERS
Points: Justin Minaya (17)
Rebounds: Felipe Haase (10)
Assists: Hassani Gravett (4)
Steals: Maik Kotsar, Hassani Gravett (3)
Blocks: Felipe Haase (1)
Minutes: Justin Minaya (33)

COLUMBIA, S.C. (AP) Freshman Justin Minaya scored 17 points, Chris Silva had 12 of his 14 points in the second half and South Carolina defeated UMass 76-70 on Saturday.
Silva, coming off a two-point performance in a Thursday loss to Temple at Madison Square Garden, was in foul trouble for most of the game. He and Maik Kotsar entered the game with 5:40 remaining with four fouls apiece and Silva delivered back-to-back dunks in 34 seconds to put USC up by six.
The Minutemen cut the advantage to two with 19.4 seconds remaining on a 3-pointer by Carl Pierre, but Hassani Gravett made four straight free throws to seal it.
Gravett finished with 14 points for South Carolina (6-2), while freshman Felipe Haase chipped in 11.
Luwane Pipkins led UMass (3-5) with 25 and Pierre added 12. The Minutemen have lost four straight.
KEY STAT
The Gamecocks shot 51 percent (28-for-55) from the floor and turned it over just four times in the second half after coughing up the ball 11 times in the first 20 minutes.
NOTABLE
South Carolina is 6-0 in the 2017-18 season when scoring 70-plus points. In all six of the team's wins, four players have scored in double figures.

Justin Minaya finished with a career-high 17 points. He went 6-for-11 from the field and led the team with 33 minutes. His six made rbaskets surpassed his previous single-game high of five.

Hassani Gravett scored a season-high 14 points and knocked down four big free throws late in the game. The redshirt junior point guard had four assists and zero turnovers.

Felipe Haase finished with career-highs in points (11) and rebounds (10) en route to notching his first career double-double. He played 29 minutes off the bench.
UP NEXT
South Carolina continues its homestand when Wyoming visits Columbia for a 7 p.m. ET matchup on Wednesday, Dec. 6. Wyoming head coach Allen Edwards played for Gamecock head coach Frank Martin at Miami Senior High, and he is also the brother of Gamecock staff member Doug Edwards. The contest will be broadcast on SEC Network+.
From USC Sports Information
Article: Gamecocks Beat UMASS 76-70 With Videos, Gallery, Stats & More