Welcome to Gamecock Fanatics
Register now to gain access to all of our features. Once registered and logged in, you will be able to create topics, post replies to existing threads, give reputation to your fellow members, get your own private messenger, post status updates, manage your profile and so much more. This message will be removed once you have signed in.
Login to Account
Create an Account
View Other Content
Search Articles
0
Arkansas Drops Gamecocks, 81-65 With Gallery, Video & Box Score
Gamecock basketball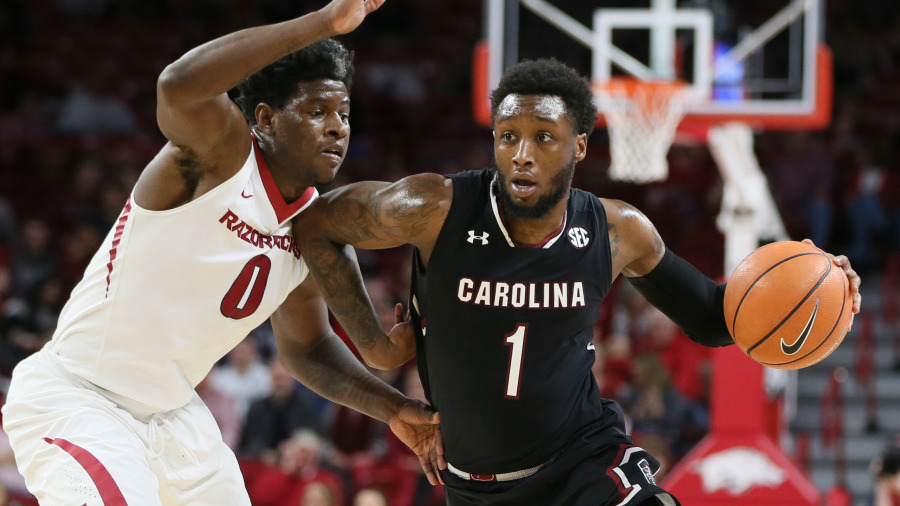 Arkansas Drops Gamecocks, 81-65 With Gallery, Video & Box Score
Kory Holden scored a season-high 11 points in 15 minutes off the bench for the Gamecocks
GCF Staff Report
Feb. 07, 2018
South Carolina vs. Arkansas
Photo Gallery / @GamecockMBB / Final Box

POSTGAME: Justin Minaya, Frank Martin on Arkansas — 2/6/18

GAMECOCK STAT LEADERS
Points: Hassani Gravett (12)
Rebounds: Hassani Gravett (7)
Assists: Hassani Gravett, Justin Minaya (4)
Steals: Maik Kotsar (2)
Blocks: Justin Minaya, Chris Silva (1)
Minutes: Justin Minaya (36)

FAYETTEVILLE, Ark. (AP) — Daryl Macon and Jaylen Barford combined to score 49 points to help Arkansas end a two-game losing streak with an 81-65 win over South Carolina on Tuesday night.
Macon led the way with 25 points for the Razorbacks (16-8, 5-6 Southeastern Conference), who entered the game having lost six of their last 10 games after opening the season 11-2. The senior has now scored 20 or more points in six straight games.
Barford added 24 points, and freshman Daniel Gafford added 11 points on 5-of-7 shooting for Arkansas. The Razorbacks scored 26 points off 18 turnovers by the Gamecocks (13-11, 4-7), and they held last year's Final Four squad to 41.2-percent (21 of 51) shooting from the field.
Hassani Gravett scored 12 points to lead South Carolina, which has lost four straight games for the first time since the 2014-15 season. Justin Minaya and Kory Holden added 11 points apiece.
BIG PICTURE
South Carolina: The Gamecocks led by as many as five points in the early going on Tuesday, but they had no answer defensively for either Macon or Barford. The two Arkansas seniors combined to shoot 12 of 28 from the field, including 8-of-16 3-pointers, and Macon was 12 of 13 on free throws to help the Razorbacks earn the much-needed victory after losses to Texas A&M and LSU last week.
Arkansas: The Razorbacks entered Tuesday tied for 288th in the country in scoring defense, allowing an average of 77 points per game. Bolstered by a lineup change that featured 6-foot-8 freshman Gabe Osabuohien seeing extended action for the first time since non-conference play, Arkansas put together one of its best defensive performances in SEC play.
NOTABLE
Redshirt junior guard Hassani Gravett scored 12 points in his first start since Limestone (Dec. 27).

Redshirt junior guard Kory Holden, who was playing just his second game since missing 11 games with a hamstring injury, matched a season-high with 11 points off the bench in just 15 minutes of work.

Freshman Justin Minaya had 11 points, his fourth

double figure

outing in his last five games.
UP NEXT
South Carolina returns to Colonial Life Arena on Saturday to host Florida in a Noon matchup on CBS. The Gamecocks posted a 77-72 victory over the Gators in the first matchup between the two schools this season on Jan. 24 in Gainesville. Carter Blackburn (play-by-play) and Jim Spanarkel (analyst), who had the call for Carolina's Elite Eight win over the Gators, will handle broadcast duties on Saturday.
From USC Sports Information
Article: Arkansas Drops Gamecocks, 81-65 With Gallery, Video & Box Score