Welcome to Gamecock Fanatics
Register now to gain access to all of our features. Once registered and logged in, you will be able to create topics, post replies to existing threads, give reputation to your fellow members, get your own private messenger, post status updates, manage your profile and so much more. This message will be removed once you have signed in.
Login to Account
Create an Account
View Other Content
Search Articles
0
Destino Homers Late To Power Carolina to 4-3 Win Over Presbyterian
Gamecock baseball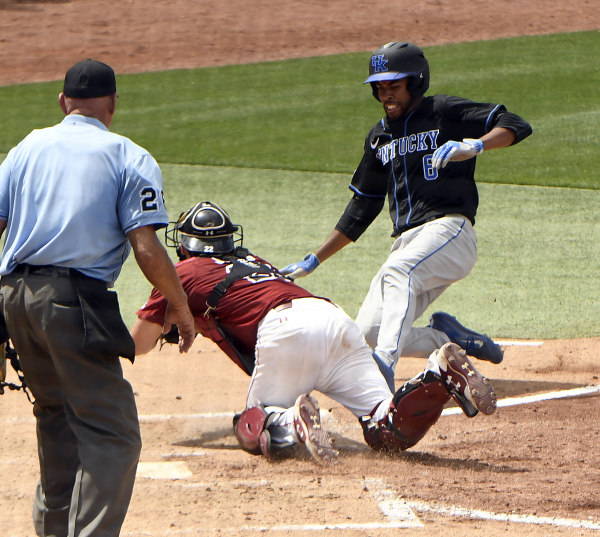 Destino Homers Late To Power Carolina to 4-3 Win Over Presbyterian
The Gamecocks are back in action on Wednesday as they host Liberty at 7 p.m.
GCF Staff Report
May 10, 2017
Box Score
COLUMBIA, S.C. – Trailing 3-2 entering the bottom of the seventh inning, 30th ranked South Carolina (28-19) scored twice with junior designated hitter
Alex Destino
tying the game with his ninth homer of the year and
Jacob Olson
scoring the game-winning run on a wild pitch as the Gamecocks defeated Presbyterian (24-25) 4-3 on Tuesday night at Founders Park.
Junior left-hander John Parke allowed just one run on two hits in a career-high 4.1 innings to pick up the win on the mound and improve to 2-1 on the season. Presbyterian reliever Eric Miles suffered the loss and is now 5-1 on the year. He allowed two runs on five hits in two innings of work.
Carolina jumped out to an early 1-0 lead in the bottom of the first inning after TJ Hopkins scored on a groundout by Carlos Cortes. Hopkins got on base with a double to the gap in left-center. It was his team-leading 10th double of the season. Gamecock right-hander Cody Morris was solid early, pitching three scoreless innings. He retired nine of the first 11 batters he faced and notched two strikeouts.
The Blue Hose knotted the score at 1-1 in the top of the fourth inning after three hits. T.J. Richardson opened things with a double, and he later scored from third after Nick Guimbarda ripped a single into right field. Presbyterian had runners on first and second, but Morris sat down the next two batters to get out of the inning.
The Gamecocks responded in the bottom half of the inning and retook the lead, 2-1, as Ross Grosvenor scored on sacrifice fly to deep center field by third baseman Jonah Bride. In the top half of the fifth, leadoff man Glen Casaceli stole second and advanced to third base on a passed ball. Richardson came through with his second hit of the night as he singled through the left side of the infield to score Casaceli from third and tie the game at 2-2.
Morris was then pulled with runners on the corners. He finished with three strikeouts, gave up seven hits and one earned run in 4.2 innings of work. Parke came in and struck out the first batter he faced. He then sat down the Blue Hose in order in the top of the sixth inning after fanning two batters.
The game remained tied 2-2 heading into the seventh frame. Presbyterian put runners on the corners again in the top half of the inning. Brett Auckland hit a chopper to Matt Williams at first base, but Carolina was unable to turn the double play and Tyler Weyenberg scored from third on the fielder's choice to give the Blue Hose their first lead of the game, 3-2. Parke then picked off Auckland to end the inning.
The lead did not last for long as Destino crushed his team-high eighth homer un of the season into the Gamecock bullpen to leadoff the bottom half of the seventh. Back-to-back hits by Bride and Jacob Olson put runners on first and second with no outs. Justin Row was then hit by a pitch to load the bases for Madison Stokes. With two outs and the bases still loaded, Olson scored on a wild pitch to put the Gamecocks back in front 4-3. Presbyterian avoided more damage as Carlos Cortes flied out to deep right-center to end the inning.¬ Parke remained on the hill for South Carolina and sat down the Blue Hose in order the next two innings as the Gamecocks held on for the one-run victory.
GAME CHANGER
Destino's seventh inning shot helped swing back momentum in favor of the home team to jumpstart a two-run rally that led to the win.
KEY STAT
Morris and Parke did not walk a batter and gave up just two earned runs in nine innings of work.
NOTABLES
• Parke struck out four of the first five batters he faced Wednesday night.
• Hopkins, who batted in the leadoff spot, tallied his team-high 10th double of the season.
• Destino went 3-for-4, matching his season-high for hits in a game. He previously had three vs. Mississippi State (4/14/17).
• Presbyterian threw six pitchers in the game, four of which were on the hill for just one inning.
QUOTABLE Head Coach Chad Holbrook
"We knew before the game started we were going to have our hands full tonight with the way Presbyterian was going to throw their arms at us. I was very impressed with their arms, and I understand why they are doing so well in their league right now with how well those guys threw. It was like we were facing SEC arms tonight, and that is rare from time to time, but our guys matched them. I think the story of the game was Cody [Morris] and John [Parke]. They were terrific with no walks out of those two guys who from time to time have struggled with command. That might have been the difference in the game. We got lucky on a wild pitch to score the go-ahead run, but Alex had a great night with that big home run when we got behind there in the seventh inning – kind of relaxed us a little bit. It enabled to us to get a big win. I knew this one was going to be extremely difficult and it was, so I'm very happy get out of here with a win.
UP NEXT
The Gamecocks are back in action on Wednesday, May 10 as they host Liberty. First pitch is set for 7 p.m. The game will be broadcast on SEC Network+ and is also available on the Gamecock IMG Network including flagship station, 107.5 FM, "The Game."
From USC Sports Information
Article: Destino Homers Late To Power Carolina to 4-3 Win Over Presbyterian