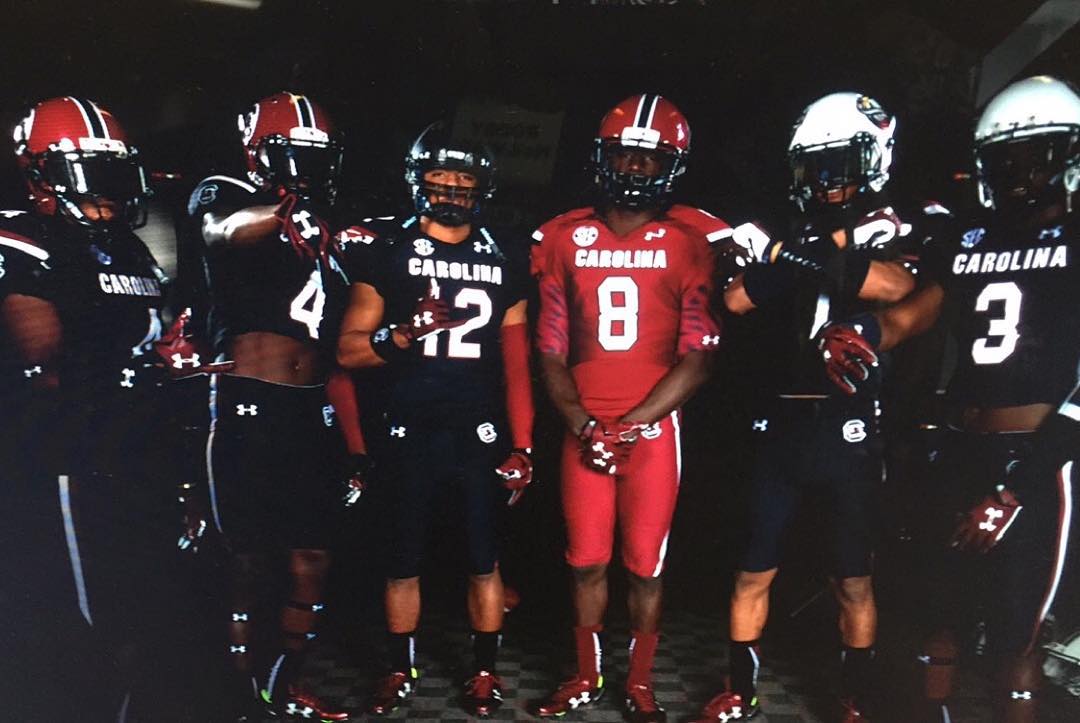 What Coach Will Muschamp Had To Say On 2018 NSD Class With Video
February 07, 2018
Will Muschamp National Signing Day News Conference — 2/7/18

South Carolina finalized its 2018 recruiting class on Wednesday, and the Gamecocks brought in a pretty good haul.
Coach Will Muschamp signed 21 players in this cycle, and the class is ranked No. 19 in the country according to 247Sports composite team rankings.
Several of the best players in the class, including quarterback Dakereon Joyner and linebacker Rosendo Louis, are already on campus as early enrollees.
Here's what Muschamp had to say about this signing class for South Carolina:
Muschamp was very complimentary of quarterback signee Dakereon Joyner and his athleticism. Said it's easy to see why he went 40-3 as a high school starter

Rosendo Louis "runs extremely well" for a big man and has shown pass rushing ability




Jaycee Horn helps South Carolina improve their length. He's listed at 6-foot 180 pounds and is a 4-star cornerback. "We certainly got better today," Muschamp said.




Spring practice starts for South Carolina on Feb. 28. He says all but nine players from the 2018 roster are expected to be involved in the spring, which is a very high number. Muschamp expressed confidence in the team's depth this spring.




Muschamp alludes to South Carolina potentially taking a couple more players in this cycle. "Certainly you're always recruiting," he said. Muschamp added that he has an idea of who could fill both spots.




Muschamp is comfortable with South Carolina's roster balance from a roster standpoint. Says they might be a little short in the secondary and admits that area is inexperienced going into 2018. But on the whole, the numbers look good according to Muschamp.




South Carolina is ahead on its 2019 and 2020 recruiting classes because of the early signing period, according to Muschamp. Says the Gamecocks are much further along than normal at this point. 2019 prospects can begin taking official visits this spring.




Muschamp said it was great to have "free advertising" for the program on Sunday when former stars Stephon Gilmore and Alshon Jeffery played in the Super Bowl. He added it's great having those guys around to represent the program.



WILL MUSCHAMP NATIONAL SIGNING DAY NEWS CONFERENCE QUOTES
Opening Statement
"We got better today, and I'll say the same thing every year: we'll know about this class in two or three years. At the end of the day, football is a developmental game, and the recruiting process isevaluation, the recruitment, and then the development when they get on campus. That's the process we're in, as far as that's concerned when they get here.
"The last two signing classes have produced 18 starters, two captains, and really only the second and third captains elected as true sophomores in school history. That tells you something about the character of the guys we've got. Plus nine contributors, so the last two signing classes have produced a bunch of good football players for us that have enabled us to continue to make some progress in our program.
"We certainly got better today. DylanWonnum – 6-5, 320, again, from Tucker High School and Coach Lamar, I've got tremendous respect for. (Dylan is) very athletic, has great balance and body control, and is a guy that, from a protection standpoint, can set the edge and can play right or left tackle. He's a guy that we're really excited about, and of course we know his brother, D.J., his dad, Dennis, and Consuela, his mom. They're a great family. Getting to know the Wonnum family in the two years I've been here with Dennis has been awesome, so we're really excited about Dylan.
"Rick Sandidge is from Concord (N.C.) – 6-5, 285 and a very powerful man inside. He can obviously anchor, but he has wiggle enough to be able to slide out and play end in our regular package, very similar to what we've done with some guys before. He's an athletic big man that can run, that can push the pocket. He can win in the pass rush, and we really have enjoyed the recruiting process with Rick Sr., and Keisha, and Brittany, his sister, getting to know that family, and I really appreciate them being Gamecocks.
"That was a huge emphasis on me going into this process was on both lines of scrimmage, to improve our quality of depth, to get bigger, to get longer, to get more athletic. We signed five offensive linemen and five defensive linemen, and we hit the exclamation point today with Dylan and Ricky, so we're really excited about those guys.
"Spring practice starts Feb. 28. The spring game will be on March 31 at noon. It's really interesting; this is the first time in my coaching career, because of all the mid-years, we only have four offensive scholarship and five defensive scholarship players that won't be in spring, that aren't on our campus right now. So you're talking in terms of great numbers of depth in spring practice. We'll certainly benefit from that.
"Some roster news: Terry Googer was forced to give up the game, and I hate that for Terry. He's a wonderful young man. He's working with us in recruiting and helping on the side. He's a great young man, and I hate anytime something like this happens. We're certainly going to support him in every way we can.
"Spring ball – Bryson Allen-Williams will be limited. I don't really know how much contact and things he will be able to do, but he will be out there. Jaylin Dickerson will be out, but he will be good for the fall. He is progressing extremely well, so we feel very comfortable there. Antoine Wilder is going to have to have surgery tomorrow on his elbow. He will be out. It's an unfortunate deal there, but again, he'll beguy that will push through it. Ben Asbury has an ACL. He will be out for spring. He will be back for fall. Mon Denson will be limited (after) the knee surgery he had postseason. I think he will be back after spring break. We're going to have five practices before spring break, then finish up when we come back. Ernest Jones I addressed earlier; he has a fracture in his back. Deebo Samuel will be cleared but will be limited for spring. Aaron Thompson had shoulder surgery. He will be out. I addressed Lavonte Valentine earlier with the knee, then (Jamyest Williams) will be out, obviously, with the shoulder. Other than that, we're pretty healthy after three days of the offseason program."
On how crucial was it to get the exclamation point on the recruiting class with today's signees
"Huge. At the end of the day, two very athletic big men that had offers from everybody in the country. Our staff did a fantastic job of solidifying those guys. I felt good about it all along because we had done a nice job recruiting the guys and I'm excited they are Gamecocks."
On the plan for using the two remaining scholarships available
"You have to use them in this cycle with the new rules. You can't hold them to the next season. You have a limit there. Certainly, you're always recruiting."
On if the staff has in mind who they would use those two spots for
"Absolutely. Both of them."
On the comfort level with the current roster
"I think numbers-wise, we are very good across the board. If you want to look generally, in terms of the quarterback position, we have four scholarship players. I believe we have seven scholarship players at the running back position. We're at six at tight end. We're now at 17 or 18 on the offensive line. You want to be at 15 to 17 there as far as your developmental position. At receiver, I believe we're at 10, 10 or 11. I always look at numbers of 16 big guys up front defensively at a combination of tackle, nose, end, Buck, guys that can rush the passer, and eight or nine of those need to be inside players. I think we have nine at this point. We're at seven or eight at linebacker, six at safety and maybe six or seven at corner. Our numbers are good. We're a little short in the secondary. We're a little experienced going into next year, especially at the safety position in the secondary. As far as the numbers are concerned, you're never going to be satisfied. Obviously, standing in our off-season program, Monday, Tuesday and Wednesday of this week compared to two years ago is night and day as far as thegirth of our football team, the length, the athleticism, the guys that jump out at you athletically that you feel like at different places I've been that compare very favorably."
On Eric Wolford's job as the offensive line coach and as a recruiter
"Wolf is persistent. He works at. He works extremely hard at it. He does a great job of developing relationships with the type of young men he wants to coach and the type of mentality they need to play for him. I think he's done a fantastic job. I really like the mental makeup of the room that we have and moving forward and feel very confident that we'll continue to improve the position."
On if Coach Muschamp is trying to incorporate Dakereon Joyner into the 2018 plans
"It's way too early to talk about that. He's working extremely hard. He has all the intangibles you want in the position and positively affecting everyone around him. We want guys that can help us win football games and if Dakereon is in that conversation, absolutely."
On Terry Googer's role in the recruiting office now that his playing career is complete
"(He is) a guy that's had a great experience at South Carolina. He's very articulate, well-spoken. He's great with parents and young men. (He is) a guy that's a great ambassador and representative of our university and our football program, no different than Robert Tucker, a guy who comes around a lot and is part of our program. It's a very unfortunate situation that he had, but certainly, those guys are great ambassadors to our program."
On the early signing period now that both signing periods are complete
"It was fine with me. I don't have any issues with it. It was hard managing bowl practice and the early-signing period. The volume of guys we had signed, I didn't expect that. I didn't anticipate that many guys signing in December. We also had 13 guys that were mid-year. That was an interesting part of it. I don't know our numbers for next year. We should still be good if we're graduating our guys. I'm not opposed to the early-signing period. It helped us get a head start on 19's and 20's in January. You're able to see more of those guys. You're further ahead on those classes now than we've ever been before at this time."
On the confidence of controlling the line of scrimmage after picking up lineman in the signing period
"I think we've improved our strength levels as a football team from our first year. You have to continue to evolve, continue to add big, strong people to your roster, to be able to control the line of scrimmage, to have the ability to run the ball when you need to and stop the run. It comes down to being a line of scrimmage game. That's what we're talking about. I hope that the 10 big guys that we signed can help us next year. Generally, in my experience, has been the closer your position moves the ball, the harder it is to play as a young player. We're certainly not going to limit anybody's opportunities. They're going to get every opportunity in the world to make an immediate impact on our football team."
On the four Gamecocks selected to participate in the NFL Combine
"Those guys have worked extremely hard and are certainly very deserving of the opportunity, as are some other guys that didn't get invited to the Combine, quite frankly. It's not an 'answer-all' to go to the Combine. I've had guys get drafted in the third and fourth round that didn't go to the Combine. They need to make their pro day count, and I know they will, but I'm proud of the four that got invited andcertainly I felt like we should have had more."
On former Gamecocks Alshon Jeffery and Stephon Gilmore playing in the Super Bowl
"I think as much as anything, (those are) two guys who, when you meet the guys, they're great people. They're about the right things, and they've represented South Carolina in a first-class manner. They're two great players who obviously made a huge impact on their organizations this year. You meet these guys, and you enjoy being around them. Alshon comes to camp. Stephon comes around. I enjoy those guys coming back and being a part of our program. They certainly helped us, and I'm happy that Alshon won it and Stephon got an opportunity to be there."
On the mid-year enrollees and what they need to do to be successful
"Some of them right now are wondering why they wanted to be mid-year. We've had some fun mornings (laughs) But right now, it's not as chaotic as it is in the fall. You're not getting ready for a game. So right now, our guys are getting oriented to the weight room. They're getting oriented to the workouts. They're getting used to the work capacity, which they've never worked at before. When we start spring ball, they're going to be able to learn the system. We're going to practice a day, then we're going to have an off day, so we're able to make the corrections and then install for the next day. Then the next day, we're going to go back over the installation again, so they're going to hear it twice. Then they get to go practice, and then we have an off day. So it's a slower process for them at this time. They're getting oriented academically and to campus. They're not getting ready for a game. The process is just a much more controlled environment. When they get in here in August, it's like drinking water out of a fire hose. You're installing every day. There aresome times I can't even get to the film from the previous day. You're going through things so quickly, and you're getting ready for a game, and you're making decisions as a staff on who can help us, and you're making quick decisions in that 12th, 13th, 16th, 18th practice on who we need to narrow down and start repping. So it's just a much different mentality going into fall camp as opposed to being here at this time. I've never seen this not work and not be a success for a young man academically and athletically in any situation."
On the team possibly looking to bring in graduate transfers
"I think any time we can improve our roster, we'll certainly try to."
On the buzz surrounding his team on the recruiting trail following a successful season
"I think when you go out recruiting, and our area is more of South Carolina, North Carolina, Georgia Tennessee and Florida, in that track of seeing high school coaches and seeing prospects, there's a very positive buzz about our program right now. But we've got to continue to press forward. That's the bottom line. I like the mentality just the three days I've been with our football team. The last three mornings have been very good. I see a lot ofbuy-in, a lot of commitment, and I've been pleased with what I've seen so far."
On the quarterback situation in spring practice
"We've got to figure out who the backup is, and obviously continue to progress Jake. I have not say down with our offensive staff and talked in terms of how far ahead we'll get on that. We'll certainly visit about that next week."
On the level of effort the veterans need to exert in spring practice
"They'd better (go hard). They've got to get better."
On the progression of Deebo Samuel and Bryson Allen-Williams from their injuries in the fall
"Well, they need to make contributions. Bryson's really been cleared for about everything, just no contact. In our off-season program, he's going through everything we go through. He's limited a little bit with some of the upper body things that we do. Deebo right now has been limited a little bit more to jogging and on the bike as far as that progression is concerned. We feel like both guysin the end, moving into fall camp, will be ready to go."