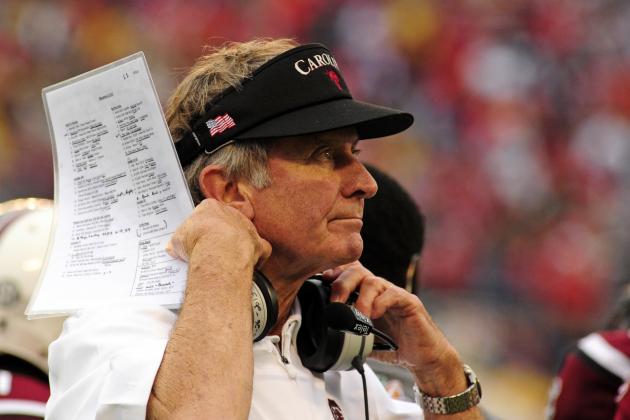 South Carolina Football Recruiting: Looking Ahead to 2015 Class
Lee Schechter
02/12/14
With the 2014 recruiting class signed and done, the recruiting focus for South Carolina shifts to the 2015 class.
While the 2014 class started slow and finished with a bang on National Signing Day, the 2015 class is off to a running start with one of the best recruits of the class already committed to the Gamecocks.
The early state of the class is headlined by Shameik Blackshear, an in-state prospect with huge potential as the next great defensive end.
The class goes beyond Blackshear with a more defensive focus and one offensive player.
The 2015 class is really strong with the first batch of commits, and South Carolina will look to bolster the class with a complete group of talent.
Here is a look at South Carolina's 2015 recruiting class.
Shameik Blackshear
Shameik Blackshear, WDE; 6'5", 240 pounds (Bluffton, SC)
Blackshear is not only the stud of the South Carolina 2015 recruiting class, but he's also one of the most elite recruits of the entire 2015 recruiting class.
As a prototypical weak-side defensive end who is planning on attending South Carolina, Blackshear draws comparisons to becoming Jadeveon Clowney 2.0. And he has the skills and body to do it.
Blackshear is a 5-star recruit who has a well-built frame despite being a junior in high school.
He's powerful and extremely quick. He probably won't lose much speed as he continues to add muscle to his already strong body.
What really has scouts drooling over Blackshear is his active use of his hands while engaging the pass rush.
By staying active and attacking opposing offensive linemen, Blackshear slips past them with ease or powers his way through. Hand quickness and overall speed will carry Blackshear a long way.
Blackshear can become a gamechanger for South Carolina and will be a great addition to a defensive line that is already revamping with the 2014 class of recruits.
Sherrod Pittman
Sherrod Pittman, OLB; 6'1", 215 pounds (Jacksonville, FL)
While Blackshear will receive a lot of the attention when talking about the 2015 recruiting class, Pittman is no slouch of a player.
Pittman is a 4-star linebacker who could work his way to adding another star as he is a higher-end outside linebacker recruit.
While a little small right now, Pittman is a great tackler and has a knack for tracking down the ball carrier and planting him to the ground.
He's not the fastest player on the field or exceptionally quick for a linebacker, but his upside of being a sound tackler and having a nose for the football carries a bigger weight.
Pittman could work into the roster as an outside linebacker if he bulks up a bit, which I would assume he will since he is still a high school player. Though Pittman could turn into a solid SPUR linebacker if he improves his coverage skills.
Chauncey Rivers
Chauncey Rivers, WDE; 6'3.5", 225 pounds (Stone Mountain, GA)
South Carolina continues to haul in defensive line recruits.
I know that calling South Carolina "defensive line U" could be a bit of a stretch, but there is no denying that Spurrier's staff knows how to attract defensive linemen to Columbia and produce quality talents. Rivers fits the trend.
Rivers' length is a big quality that helps him out as a defensive end.
He has average speed off the edge, but will continue to get faster and stronger.
Rivers is a promising young recruit, and time will help him to improve his overall stock. Yet, this kid definitely has a future in South Carolina.
Dexter Neal
Dexter Neal, WR; 6'2", 195 pounds (Stone Mountain, GA)
Neal is a fellow Stone Mountain product of the 2015 class like his teammate Chauncey Rivers. The two of them are a package deal right now, and I can't see that changing much at the moment.
Neal only has three stars right now, but his commitment to South Carolina is nothing to overlook.
Neal has good size and hands. He can absolutely work his way into the receiver rotation.
His value will come on the field, but Neal is also a chip to keep Rivers committed to South Carolina.
As of right now, I don't see these two flip-flopping, but with recruits, we never know.