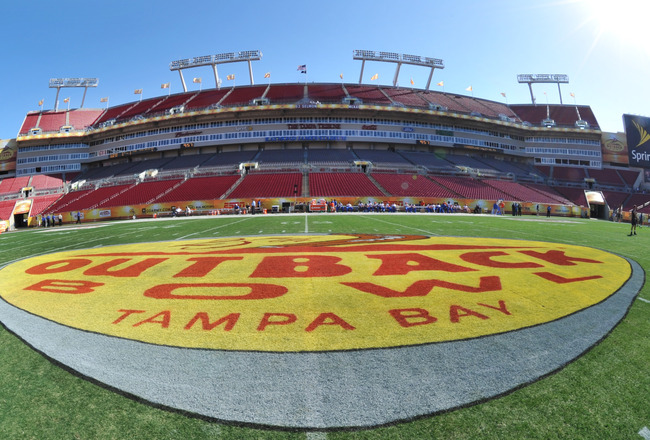 Outback Bowl: 10 Things You Need to Know About Michigan and South Carolina
GF Staff
12/31/12
With numerous injuries and suspensions affecting both Michigan and South Carolina, it might be a good idea to have a program handy when the two teams meet in the Outback Bowl New Year's Day.
Running backs Fitz Toussaint of No. 18 Michigan and Marcus Lattimore of No. 10 South Carolina haven't played for some time, while starting Wolverine quarterback Denard Robinson and starting Gamecock quarterback Connor Shaw will play, but may be limited.
Toussaint, who emerged as Michigan's top tailback with 1,041 rushing yards in 2011, totaled 514 this year before an ankle injury suffered against Iowa Nov. 17 ended his season.
Lattimore, who decided to forego his season to turn pro, rushed for 662 yards before a leg injury in South Carolina's win over Tennessee Oct. 27 cut his season short.
Robinson, who has thrown for 6,250 yards and rushed for another 4,395 in his illustrious career, injured his throwing arm against Nebraska and hasn't thrown a pass since.
He will likely play his final game as a Wolverine returning kicks, playing wide receiver, or lining up in the backfield. While it's been kept quiet, don't be surprised if Robinson throws a pass or two just to keep the Gamecocks honest. Devin Gardner, who was a starting wide receiver earlier this season, will start at quarterback.
Shaw, who's been battling a foot injury, will most likely share the signal-calling duties with Dylan Thompson.
In addition to the injuries, Michigan has three players on the suspended list and South Carolina two. The Wolverines will be without punter Will Hagerup, reserve linebacker Brandin Hawthorne and starting cornerback J.T. Floyd.
South Carolina (10-2, 6-2) will miss reserve center Kyle Harris and wide receiver D.L. Moore.
The Gamecocks, who only lost at LSU and Florida, are listed as 5.5-point favorites (by USA Today), to beat the Wolverines. Michigan (8-4, 6-2) opened the season with an embarrassing loss to Alabama in the opener and a disappointing loss to Ohio State in the regular-season finale.
Here are a few more things to know about the teams as they prepare for Tuesday's bowl game.
2013 Outback Bowl
Date: January 1, 2013
Time: 1:00 p.m. EST
Raymond James Stadium, Tampa, Florida
Weather Forecast: Partly Cloudy, High 72 (weather.com)
TV: ESPN
Odds: South Carolina -5.5 (usatoday.com)
This week's game will be Michigan's fifth trip to the Outback Bowl. The Wolverines, who hold a 3-1 record in the contest, defeated Florida 38-30 in their last appearance (2003).
Michigan has played in 41 bowl games, winning 20. The Wolverines participated in the first-ever bowl game, defeating Stanford 49-0 in the 1902 Tournament of Roses.
South Carolina, which has a 5-12 bowl record, has been to the Outback Bowl on three occasions, defeating Ohio State in 2001 and 2002, before losing to Iowa in 2009.
Michigan and South Carolina have met twice, both in the regular season. South Carolina won 17-14 in 1980 and Michigan returned the favor in 1985, winning 34-3.
Michigan Head Coach Brady Hoke
After successful stops at Ball State and San Diego State, Brady Hoke returned to Michigan, where he was an assistant from 1995-2002.
In two seasons as the Wolverines' head coach, Hoke has posted a 19-6 record, including wins over rivals Ohio State in 2011 and Michigan State this fall.
Hoke also led Michigan to a 23-20 overtime victory over Virginia Tech in last season's BCS Sugar Bowl.
During his initial press conference, Hoke was asked if Michigan was still an elite program, considering the Wolverines had fallen on hard times during the three years under Rich Rodriguez. Acting slightly insulted Hoke emphatically said, "This is Michigan, for God's sake."
South Carolina Head Coach Steve Spurrier
Steve Spurrier was brought to Columbia, S.C. to place the Gamecocks on the SEC map. It didn't take long. In his first season, Spurrier fashioned a five-game winning streak, won SEC Coach of the Year honors and earned an invitation to the Independence Bowl.
He's been to seven bowl games in his eight seasons and has a 21-4 record over the past two seasons.
In just eight years, Spurrier has become the winningest coach in Gamecock history, compiling an overall 65-37 record.
It wasn't like USC was taking a chance on Spurrier. During his tenure at Florida from 1990-99, the one-time Heisman Trophy winning quarterback (1966) engineered a passing game (known as the "Fun 'n Gun"), which was a far cry from the run-dominated SEC attacks.
While at Florida, Spurrier won six SEC titles, the 1997 national championship and was named SEC Coach of the Year five times.
When the Wolverines Have the Ball
Michigan played a pair of games with quarterbacks Devin Gardner and Denard Robinson in the same backfield to end the regular season.
In the first against Iowa, the two players clicked. Gardner completed 18 of 23 passes for 314 yards and three touchdowns.
Robinson, who occasionally lined up at quarterback but was never a threat to throw, gained 98 yards on just 13 carries in addition to catching two passes for 24 yards.
Michigan combined for 513 total yards in the 42-17 win over Iowa.
Ohio State, which obviously plays defense more along the lines of South Carolina, kept the dynamic duo in check, especially after halftime.
Gardner's passing stats looked fine, with 11 of 20 for 171 yards, but he lost two fumbles and was sacked four times. Robinson gained 122 yards on 10 carries, but the bulk came on a 67-yard touchdown run.
The Gamecocks, who had a great season defensively except for the 44-11 loss at Florida, allowed just 17.4 points per game, which slightly beats the 18.8 allowed by Michigan.
The difference for South Carolina may be defensive end Jadeveon Clowney, who leads the team with 13 sacks. Taylor Lewan, Michigan's All-American left tackle, will no doubt have his hands full.
With running back Fitz Toussaint out of the lineup, Michigan's running game will depend too much on Robinson. That is, unless Thomas Rawls or Justice Hayes can come up with that special game, something neither has done this season.
When the Gamecocks Have the Ball
While Michigan's quarterback situation is unique, South Carolina's could make a real difference.
The Wolverines have significant trouble with mobile quarterbacks. Air Force, Nebraska, Northwestern and especially Ohio State gave the defense fits.
If quarterback Connor Shaw is healthy, his running ability adds to Michigan's worries.
South Carolina is without future NFL star Marcus Lattimore, but the combination of backup running backs Kenny Miles and Mark Davis might get the job done. The duo has 633 rushing yards between them.
Should the Wolverines control the running game, they should be able to pressure the quarterback. The Gamecocks have allowed 35 sacks this season, a number associated with their quarterback hitting the turf on a regular basis. To compare, Michigan has allowed just 19.
Pressuring the quarterback could be critical for Michigan, since Shaw throws at a 67.3 percentage clip, and senior cornerback J.T. Floyd is missing the game due to a suspension. Courtney Avery, whose activity this season has mainly been limited to nickel duty, will help Raymon Taylor cover a pair of solid receivers.
South Carolina's Bruce Ellington has 38 catches and Ace Sanders has 36.
How Michigan Got There
Michigan's season was basically over by halftime of the season-opening loss to Alabama.
Sure, Brady Hoke's team could rebound from the 41-14 defeat and still win a Big Ten title, but the injury to star quarterback Denard Robinson and subsequent loss at Nebraska doomed the Wolverines.
Wins over Michigan State and Iowa broke four- and three-game losing streaks, respectively, but the 26-21 loss at Ohio State turned a decent season into a disappointing one.
On the bright side, the Wolverines played well enough defensively to be in every game but the first.
Devin Gardner, who began the year as a wide receiver, finished with the 2013 starting quarterback job his to lose.
How South Carolina Got There
South Carolina came within a field goal of possibly winning its second SEC East title in three seasons.
A crushing 23-21 loss at LSU midway through the season paved the way for a second straight defeat the following week at Florida.
The Gamecocks opened the season with a six-game winning streak, including a 35-7 win over Georgia before a record crowd of more than 85,000 at Williams-Brice Stadium.
South Carolina can conclude its season with a five-game winning streak by defeating underdog Michigan New Year's Day in the Outback Bowl.
Farewell Denard Robinson, Marcus Lattimore
If there's ever been a class act at Michigan, it's Denard Robinson. He'll be playing his final game for the Maize and Blue. He's broken a ton of Michigan records, endured two head coaches, two quarterback controversies and various injuries.
His 87-yard run set a Notre Dame Stadium record during Michigan's victory, but his career total offense mark of 10,669 yards (and counting) may be a Michigan record that stands forever.
Robinson's counterpart at South Carolina is running back Marcus Lattimore. Known as one of the most popular Gamecocks ever, Lattimore recently announced he would forego his senior season to enter the NFL draft.
The decision came after suffering his second season-ending knee injury in as many years. From Byrnes HS in Duncan, S.C., Lattimore rushed for 2,677 yards in just under three seasons.
Big Ten vs. SEC
The SEC vs. Big Ten debate continues:
Fact: The SEC won the last six BCS championship games.
Fact: Over the last nine seasons, the SEC was 47-27 in bowl games, while the Big Ten was 26-42.
Fact: Over the last 10 recruiting classes, the SEC had four, the Big Ten two.
No question, the SEC has been the dominant conference over the last decade or so.
To help the SEC debate, Michigan lost 41-14 to open the 2013 season, and Ohio State lost a national title game in 2007 (Florida 41-14), and again in 2008 (LSU 38-24).
But the SEC has not always been dominant. Especially when it comes to Michigan. The Wolverines hold an all-time advantage over SEC teams with a 23-7-1 record. Michigan is also 7-4 lifetime in bowl games.
An optimist would look at the situation as cyclical. After all, the Big Ten is tied with the SEC in national football titles, with 38.
Sure, a victory by Michigan over South Carolina wouldn't change the debate, but it might turn some heads.
What to Expect
Both teams must overcome the loss of a key running back: South Carolina's Marcus Lattimore and Michigan's Fitz Toussaint.
Lattimore, who is headed to the NFL, could be considered the biggest loss, but the Gamecocks have yet to lose without him in the lineup. On the other hand, no Michigan back has stepped up in Toussaint's absence, so Michigan could be the loser on this subject.
The most interesting matchup will be the two All-Americans: Defensive end Jadeveon Clowney for the Gamecocks and offensive tackle Taylor Lewan for the Wolverines.
With the South Carolina defense compiling 40 sacks on the season, its obvious Clowney's getting plenty of help. Michigan quarterback Devin Gardner's lack of experience showed on occasion against Ohio State, but Denard Robinson is capable of bailing him out.
Look for several trick plays from the Michigan arsenal, but it's doubtful the Gamecocks will get fooled very often.
Which brings us to the health of South Carolina quarterback Connor Shaw. If he can keep the foot from giving him too much trouble, he could be the difference in the game.
The oddsmakers have made the Gamecocks just less than a touchdown favorite, the reason being the SEC pedigree, the South Carolina defensive line and maybe even a touch of humidity in Tampa.
The Wolverines have a tall, strong-armed quarterback in Gardner who can throw the deep ball. If Michigan can contain Clowney and the rest of the Gamecock pass-rushers, the duo of Gardner and Robinson can win it for the Wolverines. But then there's the Ol' Ball Coach. Could his experience be worth a few points?
South Carolina 27, Michigan 23