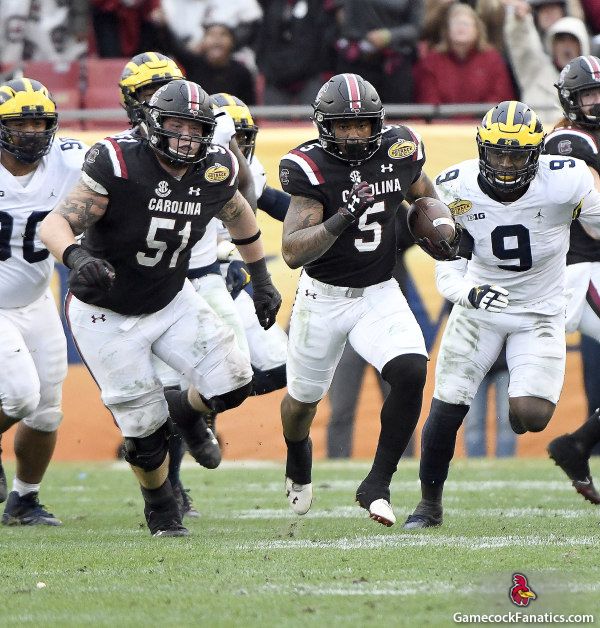 GAMECOCKFANATICS.COM Players Of The Game "Outback Bowl Edition"
Henry Fusco
January 04, 2018
Well the 2017 season is now in the books as the Gamecocks close out the season with a Outback Bowl victory over Michigan to finish off a nice 9-4 season.
Very poor offensive display on the offensive side in First half, but just the opposite in the Second half. Hats off to the Gamecock defense for holding the score down. The Gamecocks would not have won without a strong showing on defense.
On the offense picking a winner for the player of the game came down to QB Jake Bentley and RB Rico Dowdle. Jake had a very good 2nd half but I felt like Rico gave the Gamecocks boost so I went with Rico as player of the game in the Outback Bowl even though Jake was named player of the game.
For the most part it was an defensive day South Carolina was tough as nails in a low-scoring opening half, and did its best to lock down a solid Michigan running game (2.2 yards a carry). Overall, the Wolverines had fewer than 300 yards, averaged 3.6 per play, converted 2-of-17 third downs and forced five turnovers. On defense there was a lot of players I considered but I gave player of the game to LB T.J. Brunson.
NOTABLE
South Carolina scored 23 unanswered points in the second half, overcoming a 16-point deficit to defeat Michigan 26-19 in the 2018 Outback Bowl in Tampa, Fla.




Quarterback Jake Bentley was named the Outback Bowl MVP after finishing 19-of-32 for 239 yards with a pair of TDs.The Gamecocks finish the season with nine wins, which is tied for the fifth highest in school history.South Carolina now leads the overall series with Michigan, 3-1, with the Gamecocks winning the last two meetings, both in the Outback Bowl.




South Carolina's captains for the game were #8 D.J. Wonnum, #10 Skai Moore, #19 Jake Bentley and #81 Hayden Hurst.




Attendance at Raymond James Stadium was 45,687




South Carolina moves its bowl record to 9-13 and its Outback Bowl record to 4-1.




South Carolina is now 7-9 against teams in the Big Ten Conference.




The Gamecocks have 10 players that started all 13 games this season: QB Jake Bentley, WR Bryan Edwards, TE Hayden Hurst, C Alan Knott, DT Taylor Stallworth, DE D.J. Wonnum, LB T.J. Brunson, LB Skai Moore, S Chris Lammons and CB JaMarcus King.




Twelve seniors (Cory Helms, Hayden Hurst, Ulric Jones, JaMarcus King, Alan Knott, Chris Lammons, Skai Moore, D.J. Park, Dante Sawyer, Demetrius Smalls, D.J. Smith, Taylor Stallworth) played their final game in a Gamecock uniform.




CB Keisean Nixon made his first career start in the Michigan game.



GAME CHANGER
South Carolina recovered one of its five forced turnovers with 57 seconds left in third quarter and struck on the next play with a 21-yard pass from Jake Bentley to Bryan Edwards, cutting Michigan's lead to 19-16. After the Gamecock defense forced Michigan to punt, Bentley found Shi Smith for a 53-yard touchdown pass to give South Carolina the lead for good.
KEY STAT
23 — South Carolina scored 23 straight points in the second half to give the Gamecocks the 26-19 win. Carolina was down 19-3 with 5:42 left in the third quarter but went on a six-play 77-yard drive that ended with a 17-yard run from Rico Dowdle with 2:25 left in the quarter. South Carolina took the lead for good on a 53-yard touchdown pass from Jake Bentley to Shi Smith with 11:33 left in the game.
Offensive player of the Game
Sophomore RB Rico Dowdle 5'11 228lbs
Stats: 6 runs for 45 yrards 7.5 average per run 1TD longest run for 30 yards

2018 Outback Bowl USC vs Michigan - Rico Dowdle 17 Yd Touchdown Run

2018 Outback Bowl USC vs Michigan - Rico Dowdle 19 Yd Reception
Defensive player of the game
Sophomore LB T.J. Brunson 6'1 230lbs
Stats: Total tackles 13 Solo tackles 9 sacks 2 total 2

2018 Outback Bowl USC vs Michigan - TJ Brunson Sack #1

2018 Outback Bowl USC vs Michigan - TJ Brunson Sack #2