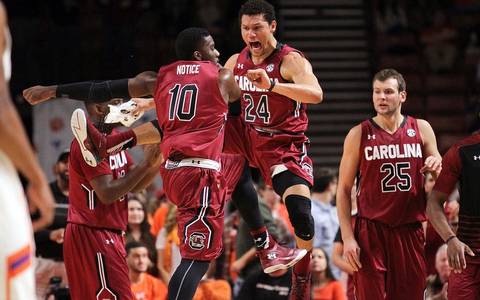 Gamecocks Take On Vanderbilt Saturday Night
Tip time set for 6:45 p.m. vs. the Commodores
GCF Staff Report
Jan. 5, 2018
GAME INFODate: Saturday, Jan. 6, 2018Tipoff: 6:45 p.m.Location: Columbia, S.C.Arena: Colonial Life Arena (18,000)Broadcast: SEC NetworkPlay-By-Play: Mike MorganAnalyst: Dane BradshawSeries: Vanderbilt leads 30-26Tickets: GamecocksOnline.com/1-800-4SC-FANS
South Carolina vs. Vanderbilt
COLUMBIA, S.C. -- South Carolina continues SEC play when Vanderbilt travels to Colonial Life Arena to face the Gamecocks on Saturday night.
$1 HOTDOGS SATURDAY
Hot dogs at the concession stands inside Colonial Life Arena will be just $1 for the matchup vs. the Commodores.
STARTING FIVE
South Carolina looks to snap a two-game losing streak to begin SEC action when it hosts Vanderbilt on Saturday night. The Gamecocks have won two of the last four meetings between the two schools, both at home, but Vandy has won seven of the last 10 overall.




Junior forward Chris Silva has paced Carolina's offense in both league games thus far. He scored 21 points in last Sunday's SEC opener at Ole Miss, and led the Gamecocks with 18 against Missouri. He has also been stellar at the free throw line, hitting 20-of-24 attempts in league play already.




Points in the paint are an important part of the Gamecock offense, and Carolina is averaging 28.6 points in the paint per game this season. Carolina most recently out-scored Missouri 28-16 in points in the paint on Wednesday night.




Sophomore forward Maik Kotsar blocked a career best three shots in the matchup against Missouri earlier this week. Kotsar has been solid this season, averaging 9.1 points, 4.6 rebounds, 1.6 assists, 0.9 blocks and a team high 1.3 steals per game.




In home games this season Carolina is averaging 76.0 points per game, 43.8 percent from the field and holds a +7.7 rebound margin over its opponents. Following Missouri's 58.3 percent from 3-point range, opponents do hold a 37.3 percent to 34.2 percent advantage from beyond the arc in games at Colonial Life Arena.



HEADLINES
South Carolina is in its 110th season of varsity basketball in 2017-18.




South Carolina advanced to its first Final Four in 2016-17, which included posting its first NCAA Tournament win since the 1973 campaign when it tallied a 93-73 win over Marquette in the First Round.




The Gamecocks finished the 2016-17 campaign with a 26-11 overall record. The 26 wins were a program record.




Among active Division I head coaches, South Carolina's Frank Martin holds the sixth-highest NCAA Tournament winning percentage (.667) behind only Duke's Mike Krzyzewski, North Carolina's Roy Williams, Kentucky's John Calipari, Michigan State's Tom Izzo and Kansas' Bill Self.




Over the course of the last three seasons (2015-16-present), the Gamecocks are 24-18 (.571) combined in games played away from home (away/neutral).




South Carolina compiled 51 wins over the course of the 2015-16 and 2016-17 seasons.




Entering the 2017-18 campaign, Frank Martin has led his team to at least 20 wins in seven of 10 seasons.




South Carolina played six of its first seven games away from home to begin the 2017-18 campaign, posting a 4-2 record during the stretch.




Martin is joined on the bench by assistant coaches Perry Clark (fifth season), Chuck Martin (first season) and Bruce Shingler (second season), and director of basketball operations Andy Assaley in his sixth season.




Clark brings 19 years of head coaching experience to the bench, as he served the combined years as head coach at Tulane, Miami (Fla.) and Texas A&M Corpus Christi, while Chuck Martin served as head coach at Marist for five campaigns.




Martin is 88-86 (.505) all-time in league play. In his 10 seasons leading a squad through a full slate of league games, his team has posted double-digit conference wins six times.




South Carolina has improved its conference record in each of Frank Martin's five seasons leading the squad through the SEC slate. In his first SEC campaign (2013), Martin led his squad to four wins, followed by five win sin 2014, six in 2015, 11 in 2016 and 12 last season.




South Carolina is in its 26th basketball season as a member of the Southeastern Conference. The Gamecocks are 167-261 (.390) all-time in SEC games.



SCOUTING THE GAMECOCKS
The Gamecocks look for their first SEC win of the season on Saturday against Vanderbilt after opening the league slate with a road loss at Ole Miss, and Wednesday's home loss to Missouri.




Despite foul trouble in both SEC games thus far, junior forward Chris Silva paces the Gamecocks with 19.5 points, 9.0 rebounds, 52.9 percent from the field, and a 20-of-24 mark from the free throw line (83.3%).




Frank Booker struggled from 3-point range vs. Missouri, but he has been solid from beyond the arc for the Gamecocks this season. He has hit multiple 3s in 10 games, and connected on a career high six at Ole Miss.




Booker's 2.6 3s per game on the year rank seventh in the SEC.




Sophomore guard Evan Hinson missed the Limestone and Ole Miss contests due to being with the Gamecock football team in Tampa for the Outback Bowl, but he played a career high 14 minutes in his return to the hardwood vs. Missouri. He pulled down four rebounds, and registered an assist, a block and a steal.




10 different Gamecocks have registered a double-figure scoring game this season, led by Silva's 11 double-figure outings. Frank Booker is next with nine.




The Gamecocks are 3-1 following a loss this season.



SCOUTING THE COMMODORES
Vanderbilt is led by head coach Bryce Drew in his second season. Vandy is 6-8 on the year, and 1-1 in league games, after a loss at Florida, and most recently a one-point home win vs. Alabama on Tuesday night.




Rookie guard Saben Lee led Vandy with 23 points in the narrow 76-75 win over Alabama.




Senior forward Jeff Roberson paces the team with 14.9 points and 8.0 rebounds per game. He is tied with Georgia's Yante Maten with six double-doubles on the year. Roberson began the season with three-straight double-doubles.




Three other Commodores average double-figure points on the year, 3-point threats Matthew Fisher-Davis (12.3) and Riley LaChance (11.5) both provide double figures on the season, as well as Lee's 10.1 per game.




Vanderbilt is 0-3 in road games this season, with losses at Belmont, Arizona State and Florida.




The Commodores rank at the bottom of the SEC in field goal percent, hitting just 41.3 percent on the year. They are one of the better defending teams in the league from 3-point range, holding opponents to just 31.5 percent in the category.




Vanderbilt's 120 3-point field goals made on the year rank fifth in the SEC.



THE SERIES
Vanderbilt leads the all-time series with South Carolina 30-26.




The Gamecocks own a 14-12 edge in games played in Columbia.




Vandy has won seven of the last 10 contests between the two schools.




The series dates back to a 31-25 Commodore win on Feb. 28, 1927, in the Southern Conference Tournament in Atlanta.



UP NEXT
South Carolina is on the road for two matchups next week, first at Alabama on Tuesday (Jan. 9), before traveling to Georgia for weekend action (Jan. 13). Tom Hart (play-by-play) and Jon Sundvold (analyst) will have the call for the matchup versus the Crimson Tide on Tuesday. Tip time is set for 7 p.m. ET on the SEC Network.



From USC Sports Information