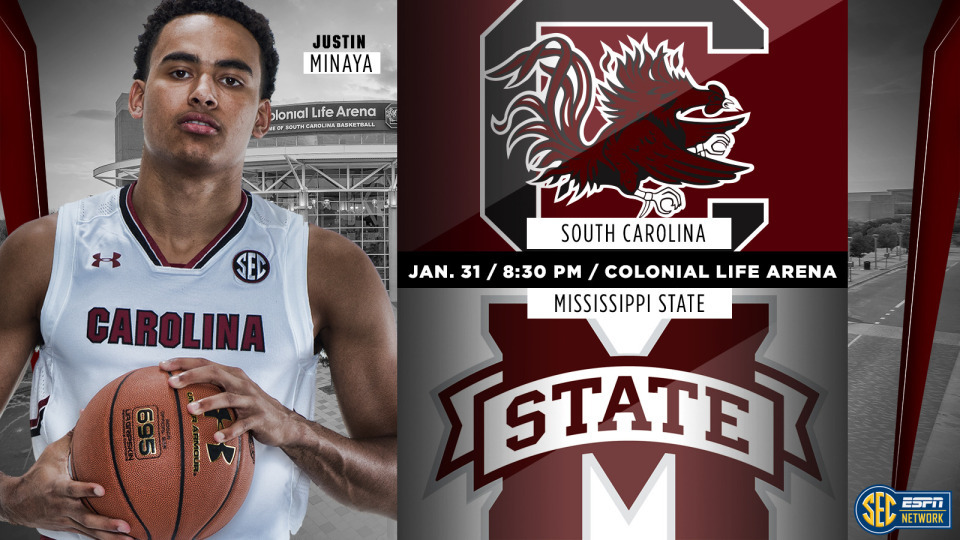 Gamecocks Host Bulldogs In SEC Action Wednesday Night
Tip time set for 8:30 p.m. ET vs. MSU
GCF Staff Report
January 30, 2018
South Carolina vs. Mississippi State
GAME INFO
Date: Wednesday, Jan. 31, 2018
Tipoff: 8:30 p.m.
Location: Columbia, S.C.
Arena: Colonial Life Arena (18,000)
Broadcast: SEC Network
Play-By-Play: Mike Morgan
Analyst: Pat Bradley
Series: MSU leads 19-14
Tickets: GamecocksOnline.com/1-800-4SC-FANS
COLUMBIA, S.C. -- South Carolina resumes SEC play on Wednesday when Mississippi State travels to Columbia for a mid-week matchup. The Gamecocks have won two-straight in the series versus the Bulldogs.
STARTING FIVE
South Carolina resumes SEC play when it hosts Mississippi State on Wednesday night. The Gamecocks will play three of their next five SEC matchups on the road, before finishing the league season with three of their last five at Colonial Life Arena.




The Gamecocks concluded a stretch of four-straight games versus ranked opponents with a narrow 70-63 loss to No. 14/14 Texas Tech in the Big 12/SEC Challenge at Colonial Life Arena on Saturday. During the stretch, the Gamecocks went 2-2, with wins over No. 18 Kentucky and at No. 20 Florida, and the other loss at home vs. No. 21 Tennessee. Junior forward Chris Silva led the Gamecocks during the stretch with 16.8 points and 7.5 rebounds per contest.




Another who played well during the past four-game stretch vs. ranked opponents was sophomore forward Maik Kotsar. He averaged 9.0 points and 6.0 rebounds per game during the set, while also matching for a team high with 2.8 assists per game, and collecting a

team best

1.8 steals per outing.




South Carolina is 6-1 after a loss this season, having only one stretch of two-straight losses.




Wednesday's game will be a battle of the top two teams in the SEC in terms of scoring defense, as Mississippi State paces the league in the category, holding opponents to just 65.2 points per game, while the Gamecocks are a close second, as opponents average just 66.0 points per outing.



HEADLINES
South Carolina is in its 110th season of varsity basketball in 2017-18.




South Carolina advanced to its first Final Four in 2016-17, which included posting its first NCAA Tournament win since the 1973 campaign when it tallied a 93-73 win over Marquette in the First Round.




The Gamecocks finished the 2016-17 campaign with a 26-11 overall record. The 26 wins were a program record.




Among active Division I head coaches, South Carolina's Frank Martin holds the sixth-highest NCAA Tournament winning percentage (.667) behind only Duke's Mike Krzyzewski, North Carolina's Roy Williams, Kentucky's John Calipari, Michigan State's Tom Izzo and Kansas' Bill Self.




Over the course of the last three seasons (2015-16-present), the Gamecocks are 26-19 (.578) combined in games played away from home (away/neutral).




South Carolina compiled 51 wins over the course of the 2015-16 and 2016-17 seasons.




Entering the 2017-18 campaign, Frank Martin has led his team to at least 20 wins in seven of 10 seasons.




South Carolina played six of its first seven games away from home to begin the 2017-18 campaign, posting a 5-2 record during the stretch.




Martin is joined on the bench by assistant coaches Perry Clark (fifth season), Chuck Martin (first season) and Bruce Shingler (second season), and director of basketball operations Andy Assaley in his sixth season.




Clark brings 19 years of head coaching experience to the bench, as he served the combined years as head coach at Tulane, Miami (Fla.) and Texas A&M Corpus Christi, while Chuck Martin served as head coach at Marist for five campaigns.




Martin is 92-88 (.511) all-time in league play. In his 10 seasons leading a squad through a full slate of league games, his team has posted double-digit conference wins six times.




South Carolina has improved its conference record in each of Frank Martin's five seasons leading the squad through the SEC slate. In his first SEC campaign (2013), Martin led his squad to four wins, followed by five win

sin

2014, six in 2015, 11 in 2016 and 12 last season.




South Carolina is in its 26th basketball season as a member of the Southeastern Conference. The Gamecocks are 171-263 (.392) all-time in SEC games.




South Carolina has 21 games missed to injury this season: Hassani Gravett (3/right ankle sprain); Kory Holden (10/hamstring injury); David Beatty (1/elbow injury); Tommy Corchiani (7 games/left knee injury).



SCOUTING THE GAMECOCKS
South Carolina enters Wednesday's matchup vs. Mississippi State with a 13-8 overall record and a 4-4 mark in SEC games.




The Gamecocks look to snap a two-game home losing streak on Wednesday, suffering losses vs. No. 21 Tennessee and No. 14 Texas Tech in its last two home contests.




In league games this season, junior forward Chris Silva's 17.5 points and 8.0 rebounds per game are both team highs. Those marks are fifth and tied for fourth, respectively, in the league statistics.




The Gamecocks enter the week currently tied with Arkansas and Ole Miss for sixth in the SEC standings.




Carolina is 7-3 this season in home games, scoring 72.9 points per game, while holding opponents to 66.4 points per game.




South Carolina ranks third in the SEC with 12.6 offensive rebounds per game this season, and the Gamecocks average 11.2 second-chance points per contest.




10 different Gamecocks currently average 10+ minutes per game. Maik

Kotsar's

27.4 minutes per contest are a team high.




Silva has led or shared the team

lead

in scoring a

team high

11 times this season.




South Carolina is 11-5 this season when out-rebounding its opponent.




The Gamecocks are 3-1 when playing on a Wednesday this season.



SCOUTING THE BULLDOGS
Mississippi State is 15-6 this season and 3-5 in SEC contests after most recently posting a 74-62 home win over Missouri on Saturday.




The Bulldogs are led by head coach Ben Howland in his third season.




MSU is 0-5 on the road this

season,

and 0-4 in SEC road games.




Three average double-digits for the Bulldogs, led by junior guard

Quindary

Weatherspoon's 15.0 points per game. Aric Holman (11.7) and Nick Weatherspoon (10.4) are also in double figures.




In the SEC stats, Mississippi State ranks first in scoring defense (65.2), fifth in field goal percent (46.1%), third in field goal percent defense (40.0%) and fourth in blocked shots (5.6).




Mississippi State opened the season on an eight-game win streak and won 13 of its first 14 games, before a three-game losing streak in early-mid January.




In MSU's win vs. Missouri last Saturday, Q. Weatherspoon led the way with 20 points and Lamar Peters had a

game high

nine assists, which matched for the most by an individual in league games this season.




On the year, MSU is 12-0 when shooting 45 percent or better from the floor.



THE SERIES
MSU leads the all-time series vs. South Carolina, 19-14.




In games played in Columbia, the Gamecocks hold a slight 8-7

upperhand

.




The Gamecocks have won two straight in the series and five of the last six.




The Gamecocks have won four-straight at home vs. the Bulldogs.



UP NEXT
South Carolina will play two-straight road matchups in SEC action beginning on Saturday when the Gamecocks travel to face Texas A&M at 2 p.m. ET on ESPN2. Carolina continues the road swing on Tuesday at Arkansas for a 7 p.m. ET contest against the Razorbacks.



From USC Sports Information