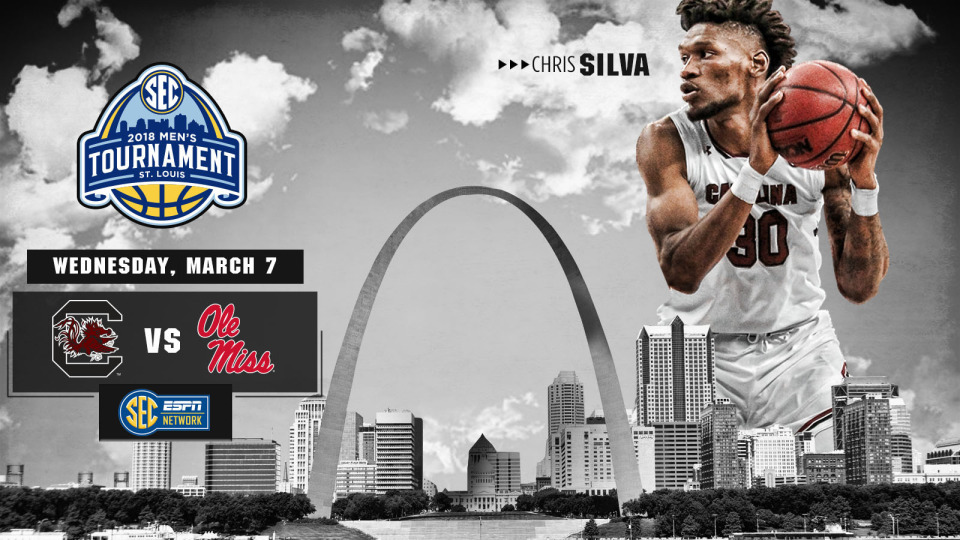 Gamecocks face Ole Miss in SEC Tournament Wednesday
Tip time set for approximately 9:30 p.m. ET vs. the Rebels
GCF Staff Report
March 06, 2018
South Carolina vs. Ole Miss
GAME INFODate: Wednesday, March 7, 2018Tipoff: approx. 9:30 p.m. ETLocation: St. Louis, Mo.Arena: Scottrade Center (18,724)Broadcast: SEC NetworkPlay-By-Play: Tom HartAnalyst: Jon SundvoldAnalyst: Molly McGrathSeries: Ole Miss leads 20-18
COLUMBIA, S.C. -- South Carolina is the No. 11 seed in the 2018 SEC Tournament, and is set to begin action versus 14th-seeded Ole Miss on Wednesday evening in St. Louis.
STARTING FIVE
South Carolina is the No. 11 seed in this week's SEC Tournament in St. Louis, after posting a 7-11 record this season in Southeastern Conference play. Carolina will face 14th-seeded Ole Miss in the event's opening round on Wednesday evening. Ole Miss tallied a 74-69 home win in the SEC opener for both schools on Dec. 31, in the only meeting between the two schools during the regular season.




Carolina is 20-26 (.434) all-time in SEC Tournament play and 4-4 all-time vs. the Rebels.




Graduate student guard Frank Booker put together the best back-to-back performances of his career last week, matching a then-career high with 25 points and six 3s in the OT win vs. LSU,

befor

erupting for a

career high

27 points, including five 3s and an 8-of-8 effort from the free throw line, in the loss at Auburn. Booker also pulled down 10 rebounds vs. Auburn for a career high, and his first double-double.




South Carolina suffered a six-game losing streak from late January to mid-February, but the Gamecocks were 3-2 in the final five games of the regular season, including an upset win over No. 10/11 Auburn on Feb. 17. During the stretch, Booker led the squad with 17.0 points per game, junior forward Chris Silva added 13.4 points and nine rebounds per contest and junior guard Hassani Gravett's 3.2 assists per game were a team best.




Nine different Gamecocks have registered a double-figure scoring outing this season, led by Silva's 24 on the year. Booker has 19 and fellow graduate student guard Wesley Myers has 12, including 11 points off the bench at Auburn last Saturday.



SILVA EARNS ALL-SEC ACCOLADES
The Southeastern Conference released it's 2018 Coaches All-SEC awards on Tuesday, and it was announced that junior forward Chris Silva was named to the First Team, the All-Defensive Team, and he was named the Co-Defensive Player of the Year. The postseason accolades are the first of Silva's career. He was dominant in SEC play this season, leading the Gamecocks with 14.8 points and 7.8 rebounds, while he also averaged 1.3 blocks per game. His rebounds per game were fourth in the league, and he also ranked second in conference action with 3.7 offensive rebounds per outing. He tallied double-figures in 15 games against conference foes this season, while he pulled down eight or more rebounds nine times, and had double-digit rebounds five times, en route to five double-doubles in league action. South Carolina has now had an All-SEC First-Team honoree from the league's coaches in each of the last three seasons - 2016, Michael Carrera; 2017, Sindarius Thornwell, and Silva this season.



SCOUTING THE GAMECOCKS
South Carolina enters SEC Tournament action with a 16-15 overall record. The Gamecocks were 7-11 in SEC games this season.




The Gamecocks have six wins away from home this season, including two at a neutral site.




Junior forward Chris Silva's 14.1 points and 7.8 rebounds per game are both team highs this season.




Graduate student guard Frank Booker adds 12.5 points per outing, and his 76 3-pointers (2.5 per game) are a team best. His 40.4% from 3-point range, 76-of-188, is ninth in the SEC.




Six different Gamecocks average at least 7.5 points per game this season, and seven are averaging 20 minutes or more per game.




In four neutral site games this season, Carolina is averaging 71.0 points per

game,

while holding opponents to 66.8 per outing. Silva's 11.0 points are a team high in

neutral site

contests, and rookie forward Justin Minaya adds 10.8 per game.




In the SEC statistics, Carolina is fifth in scoring defense (68.5 ppg), sixth in rebound margin (+3.0) and sixth in turnover margin (+1.3).




Individually in the SEC statistics, Silva's 7.8 rebounds per game are fourth, Booker is ninth in 3-point field goal percent (40.4%), and he is tied for seventh with 2.5 made 3s per game.




South Carolina is among the nation's best in free throw attempts and makes. Carolina is third in the SEC and 16th nationally with 751 free throw attempts on the

year,

and is third and 20th nationally with 532 makes at the line.



SCOUTING THE REBELS
Ole Miss is 12-19 overall this season and finished the SEC slate with a 5-13 record.




The team is led by acting head coach Tony Madlock, who played collegiately at Memphis.




Four average double-figure points for Ole Miss, led by Terence Davis' 13.7 per game. Deandre Burnett (13.6), Bruce Stevens (10.6) and Breein Tyree (10.6) also average double figures.




The Rebels have lost 10 of their last 11 games entering the SEC Tournament, including an 82-69 loss to Vanderbilt last Saturday.




Ole Miss was 7-6 in non-conference games this season and 1-1 in neutral site contests.




The Rebels are just 2-11 in games played away from home.




In the SEC statistics, Ole Miss is sixth in scoring offense (75.5 ppg), but last in scoring defense (77.9 ppg).




In the matchup vs. Vanderbilt, Stevens led the squad with 17 points, while Davis added 15. > Ole Miss is 31-53 all-time in the SEC Tournament.



THE SERIES
Ole Miss leads the all-time series between the two schools 20-18.




The Gamecocks hold a 5-4 advantage in neutral-site meetings, and the series is tied at the SEC Tournament, 4-4.




South Carolina won the last SEC Tournament between the two schools, 60-58, in the second round of the 2015 event. Then-senior guard Tyrone Johnson was fouled on a long-range 3-point attempt with just seconds remaining, and he hit all three free throws to advance the Gamecocks.



UP NEXT
The winner of Wednesday's matchup between the Gamecocks and Rebels will advance to the second round to face sixth-seeded Arkansas on Thursday at approximately 9:30 p.m. ET. South Carolina met Arkansas just once during the regular season, with the Razorbacks posting an 81-65 win in Fayetteville.



From USC Sports Information