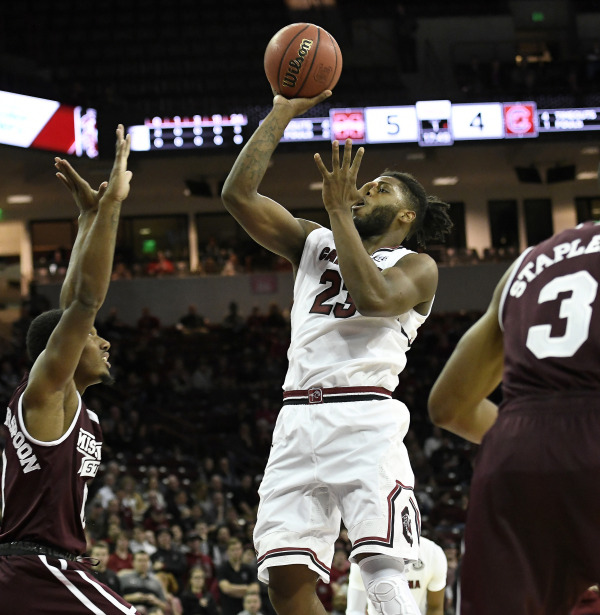 Gamecocks Defeated, 81-76, By Mississippi State With Videos, Gallery And More
Frank Booker made five 3s and scored a career-high 25 points
GCF Staff Report
Feb. 01, 2018
South Carolina vs. Mississippi State
GAMECOCK STAT LEADERSPoints: Frank Booker (25)Rebounds: Chris Silva (6)Assists: Hassani Gravett (7)Steals: Wesley Myers (2)Blocks: Hassani Gravett, Maik Kotsar (1)Minutes: Frank Booker (34) 

Men's Basketball - Frank Martin Postgame

Men's Basketball - Frank Booker and Chris Silva Postgame
COLUMBIA, S.C. (AP) Quinndary Weatherspoon had 14 of his 18 points in the second half while younger brother Nick Weatherspoon had 17 points to lead Mississippi State to an 81-76 victory over South Carolina on Wednesday night.
The Bulldogs (16-6, 4-5 Southeastern Conference) won an SEC road game - and consecutive league games - for the first time all season. Mississippi State also ended a four-game losing streak at South Carolina (13-9, 4-5), which dated back to 2012.
The Weatherspoons were a big reason why.
Nick led the way in the opening half with 13 points, including a driving layup right before time expired to send the Bulldogs into the break ahead 37-36. Quinndary took over after that, scoring seven points in an 18-8 run midway through the period as Mississippi State built a 57-48 lead.
The Gamecocks rallied back and cut the lead to a point several times, the last one on Hassani Gravett's driving layup with 4:50 to go. But Quinndary Weathspoon answered with a 3-pointer and the Gamecocks could not get closer than three points the rest of the way.
Wesley Myers had a chance to tie the game in the final minute with South Carolina trailing 77-74, but his 3-pointer was off the mark with 27 seconds left. Aric Holman followed with a thunder dunk for the Bulldogs about 10 seconds later to end the drama.
It's the 13th time in 22 games that a Weatherspoon has led the scoring for Mississippi State.
Frank Booker had a career high 25 points to lead the Gamecocks, who have lost three of their past four games and all of them at home. Booker's previous high was 22 against Middle Tennessee in January 2017 when he played for Florida Atlantic.
Freshman Abdul Ado had a career best 16 points and nine rebounds for Mississippi State before fouling out with 2:20 left.
BIG PICTURE
Mississippi State: The Bulldogs didn't get to the foul line much, but made their chances count. Mississippi State shot 12 fewer free throws than South Carolina, but made 14 of their 15 tries. It's a solid formula to close out tight games.
South Carolina: The Gamecocks appeared a bit sluggish in the first game against a non-ranked opponent in two-and-half weeks. Starting point guard Wesley Myers, a big reason South Carolina beat Top 25 teams Kentucky and Florida, had four turnovers and zero assists the first 20 minutes. He finished with five turnovers and one assist.
KEY STAT
The Bulldogs shot 57 percent (16-for-28) in the second half and 52 percent (30-for-58) for the game. MSU was also 14-for-15 (93 percent) at the free throw line.
NOTABLE
Tonight marks South Carolina's first loss of the season when scoring 70-plus points. The Gamecocks were previously 12-0 when scoring 70 or more.




The Gamecocks gave up 80 or more points for the first time in the 2017-18 campaign Wednesday night.




Frank Booker dropped a career-high 25 points, thanks to five 3s. The graduate transfer guard, who has spent time at Oklahoma and FIU, was 8-for-12 from the field. His eight field goals were also a new career high.




Junior big man Chris Silva finished with 18 points. He was 10-for-13 at the free throw line, marking his fourth game of the season with double-digit makes at the foul line. Silva has made eight or more free throws 11 times this season.




Redshirt junior guard Hassani Gravett dished out seven assists, his most since he had seven in the team's road win at FIU (Nov. 27). The Villa Rica, Ga., native, had just one turnover in 24 minutes.



UP NEXT
South Carolina will play two-straight road matchups in SEC action beginning on Saturday when the Gamecocks travel to face Texas A&M at 2 p.m. ET on ESPN2. Carolina continues the road swing on Tuesday at Arkansas for a 7 p.m. ET contest against the Razorbacks.
From USC Sports Information