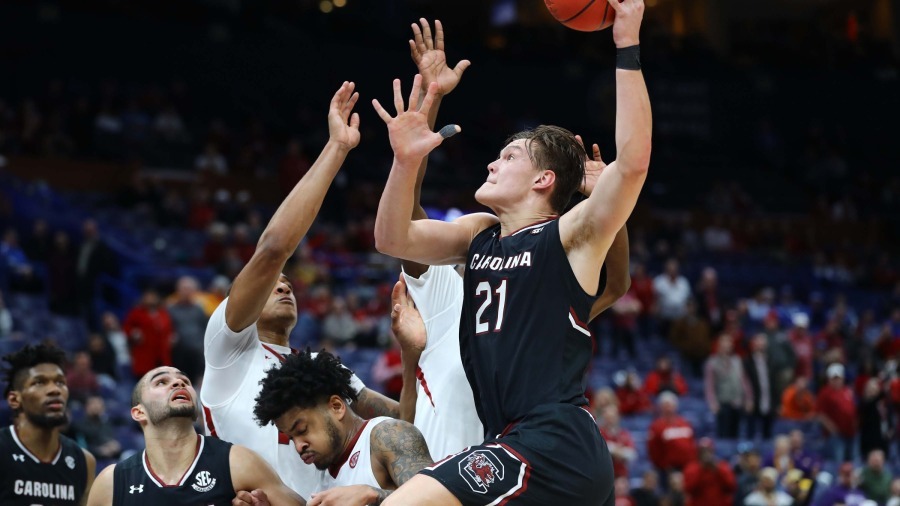 Gamecocks comeback bid falls just shy against Arkansas
Chris Silva and Maik Kotsar each scored 15 points to lead Carolina
GCF Staff Report
March 09, 2018
South Carolina vs. Arkansas (SEC Tournament)
GAMECOCK STAT LEADERSPoints: Chris Silva, Maik Kotsar (15)Rebounds: Chris Silva (11)Assists: Wesley Myers (4)Steals: Evan Hinson, Felipe Haase (1)Blocks: Chris Silva (1)Minutes: Frank Booker, Maik Kotsar (34)
ST. LOUIS (AP) Jaylen Barford scored 13 of his 17 points in the second half to help Arkansas hold off South Carolina for a 69-64 win in the second round of the Southeastern Conference Tournament on Thursday night.
The win is the seventh in the last nine games for the sixth-seeded Razorbacks (22-10), who advance to face No. 3 seed Florida on Friday night.
Barford, a first-team All-SEC selection, was 6 of 11 from the field and had a key 3-pointer and fast-break layup in the closing minutes. Daryl Macon added 12 points for Arkansas, hitting 8 of 8 free throws, including two in the final minute that helped seal the win.
Chris Silva had 15 points and 11 rebounds to lead the No. 11 seed Gamecocks (17-16), who advanced to the second round with a win over Mississippi on Wednesday night. Maik Kotsar also scored 15 points, and Frank Booker added 11.
Arkansas led 36-28 at halftime thanks to its performance at the free throw line, where it hit 14 of 15 in the half. The Razorbacks entered the game 12th in the SEC in free-throw percentage (67 percent), but they continued to shoot the ball well from the line in the second half - finishing 23 of 26 (88.5 percent) overall in the win.
KEY STAT
Arkansas, who came into tonight's contest 12th in the league in free throw percentage as a team (67 percent), went 23-for-26 (88 percent) at the foul line in tonight's game.
NOTABLE
First-Team All-SEC forward Chris Silva finished with 15 points and 11 rebounds, marking his third consecutive double-double and his 10th of the 2017-18 season (14th career).




Sophomore forward Maik Kotsar had 15 points on 7-of-11 shooting. His seven made field goals were one shy of matching a career high.




Graduate transfer guard Frank Booker finished with 11 points. He knocked down a trio of 3s, marking his 17th game this season with three more makes from behind the arc.



From USC Sports Information