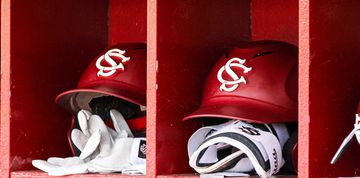 South Carolina batters Princeton in first half of doubleheader, clinches series
March 10, 2018
South Carolina captured the first half of its doubleheader and a series win against Princeton on Saturday afternoon, scoring in five straight innings to top the Tigers 7-3.
Junior LT Tolbert got the offense started in the bottom of the second inning, rocketing a pitch to right field for his third home run of the year to stake the Gamecocks (10-5) to a 1-0 lead.
In the third, freshman Noah Campbell doubled, then scored on another double by junior TJ Hopkins, who crushed the ball off the left-field wall. Hopkins then came around to score himself on a single by senior Madison Stokes.
Princeton (0-6) got on the board in the top of the fourth inning, as USC starter Cody Morris began to struggle, allowing a double and then throwing a wild pitch that let a Tiger run home to make the score 3-1.
The Gamecocks responded in the next half-inning though, with two doubles from senior Jonah Bride and junior Chris Cullen scoring a run. They tacked on another in the fifth off an RBI single from Tolbert.
The final Carolina runs of the game came in the bottom of the sixth, as Campbell singled and Hopkins followed with a blast that easily cleared the right-field fence to make it 7-2.
THREE POINTS
Star of the game: Junior outfielder TJ Hopkins, who went 3-4 with 3 runs, 3 RBIs, a walk and two stolen bases. Hopkins is now 5-7 on the series with 12 total bases.
Play of the game: Hopkins's long home run in the bottom of the sixth inning essentially clinched the game and gave him a single, double, triple,home run and walk in the past two games.
Stat of the game: 6-14 hitting for South Carolina with runners in scoring position. As head coach Mark Kingston said after Friday's win, the Gamecocks have never struggled to get runners on base, but all of their losses have come from an inability to bring those runners home. That was not the case on Saturday afternoon.
OBSERVATIONS
Top half of lineup slugs: The first four hitters in USC's lineup — Campbell, Hopkins, Stokes and Tolbert — combined to go 11-17 with six runs, six RBI and two home runs on Saturday, accounting for basically all of South Carolina's offense. Campbell is the only one of the quartet not hitting above .300, and his on-base percentage
Bride extends hit streak, shines defensively: At the plate, it wasn't a banner day for Jonah Bride, as he went 1-4 with a double and a strikeout. However, he did keep his hit streak alive, pushing it to six games, the longest active stretch on the team. At third base, he was excellent, handling several hard ground balls with ease and making a tough barehanded play to finish with six assists.