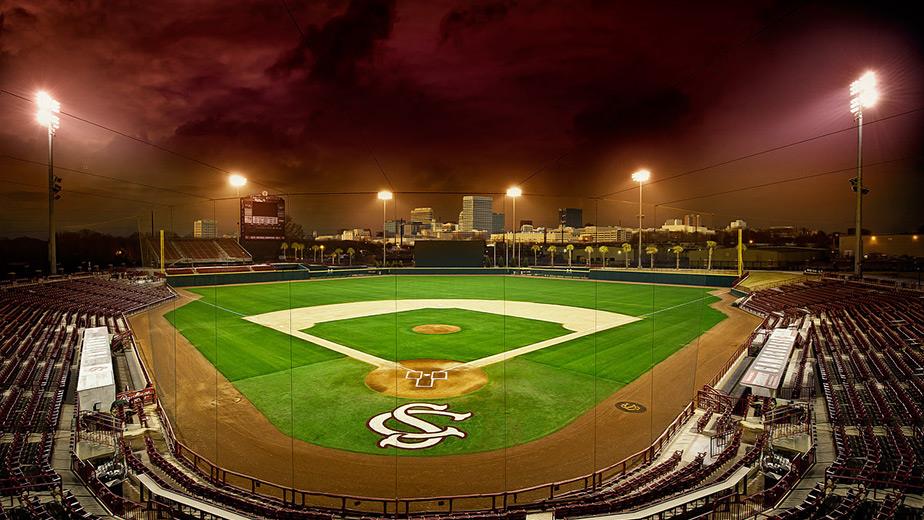 Gamecocks win doubleheader to sweep series against Princeton with videos
March 10, 2018

POSTGAME: TJ Hopkins, Eddy Demurias, LT Tolbert on Princeton — 3/10/18

HIGHLIGHTS: Baseball vs. Princeton — 3/10/18

POSTGAME: Mark Kingston on Princeton — 3/10/18
The Gamecocks didn't exactly light up the scoreboard, but they got all the offense they needed in the first three innings Saturday evening to hold off Princeton for a 6-4 win, clinching USC's first series sweep of 2018.
After four straight games of at least seven runs and nine hits, including a 7-3 win in the first game of Saturday's doubleheader, South Carolina (11-5) got off to a quick start, scoring three in the first off a home run from junior second baseman LT Tolbert, then one apiece in the second and third with RBIs from senior shortstop Madison Stokes and Carlos Cortes.
From there on out, the Gamecocks had just two hits, but the Tigers (0-7) couldn't do enough against USC's pitching to salvage a win.
"It's really hard to sweep a doubleheader," USC head coach Mark Kingston said. "That team, I don't think their record is reflective of the quality of team they are."
Mark Kingston had spent all week playing coy about who he would pick to start Game 3 of the series, suggesting he might have a "trick up our sleeve," but his eventual choice, junior Eddy Demurias, was a preseason contender for the rotation before being named the team's closer.
In his first start of the year, Demurias threw quality pitches and didn't walk any Tigers, but he did seem to tire in the later portion of his outing, giving up several hard hit balls that culminated in back-to-back home runs to open the sixth inning, which ended his outing.
Kingston said afterward that while he was pleased that Demurias didn't walk anyone, he wanted to see more than the four strikeouts the right-hander put up. He also said the coaching staff would have to evaluate further before deciding when and if Demurias would start again.
After his departure, the USC bullpen kept the scoreboard clean, pitching four innings of scoreless ball. Redshirt freshman TJ Shook threw three frames, extending his scoreless streak to 11 2/3 innings, before freshman Carmen Mlodzinski completed the game with a save, the first of his career.
With Demurias now in contention to start games, Kingston said he will go with a "closer by committee" moving forward. But regardless of who is pitching, he said, he likes how his relievers have performed thus far.
"I've been comfortable with our bullpen all year. You look at the stats, our guys have far exceeded what we maybe thought they would be through the fall and the early spring," Kingston said.
THREE POINTS
Star of the game: Junior infielder LT Tolbert, whose long home run in the first inning sparked the offense in the early going. He added two walks and HBP to reach base four times in the contest.
"He's a guy that gives you quality at-bats, and sometimes you just need that middle of your order to just be consistent quality at-bats. Sometimes just quality at-bats help you score a lot of runs, and so I thought with him being in that cleanup spot and guys being on base a lot in front of him, he's a quality RBI guy because he gives you a professional at-bat," Kingston said.
Play of the game: In terms of sheer impressiveness, it's hard to argue with TJ Hopkins's diving grab in the top of the seventh. The left fielder laid out and just barely got his glove under the shallow fly ball, so much so that the umpires reviewed it just to make sure.
In terms of importance, Carlos Cortes's long blast in the third inning was clearly important to him, given how much he's struggled this season after a standout freshman year, and it also turned out to be the game-winning score for the Gamecocks.
Stat of the game: Jonah Bride had a rough game at the plate, going 0-4 to snap his six-game hit streak. But what made it really hurt was the fact that he left seven men on base.
OBSERVATIONS
TJ Shook maintains perfect ERA: The redshirt freshman came in for Demurias in the top of the sixth and promptly gave up two singles to put himself in a jam with no outs. However, he induced a crucial double play and fanned the next batter, then made it through the seventh and eighth as well, stretching his streak of scoreless innings to 11 2/3.
Hopkins walks it out: After an explosive 3-4 performance at the plate in Game 1 of the doubleheader, junior outfielder TJ Hopkins didn't get much to hit in Game 2, walking three consecutive times to start the game. USC ended with 11free passes, tying its season high.
"It's pretty clear when TJ's mindset is right and he's working gap-to-gap and through the middle of the field, that's when he's at his best. When he gets into pull mode, that's when he starts to get himself in trouble. ... You'll notice all his production today was through the middle and to right field. When he's doing that, he's a very, very good hitter. It's up to him, it's up to us to remind him that that's his approach, because when he does that, he's really good," Kingston said.