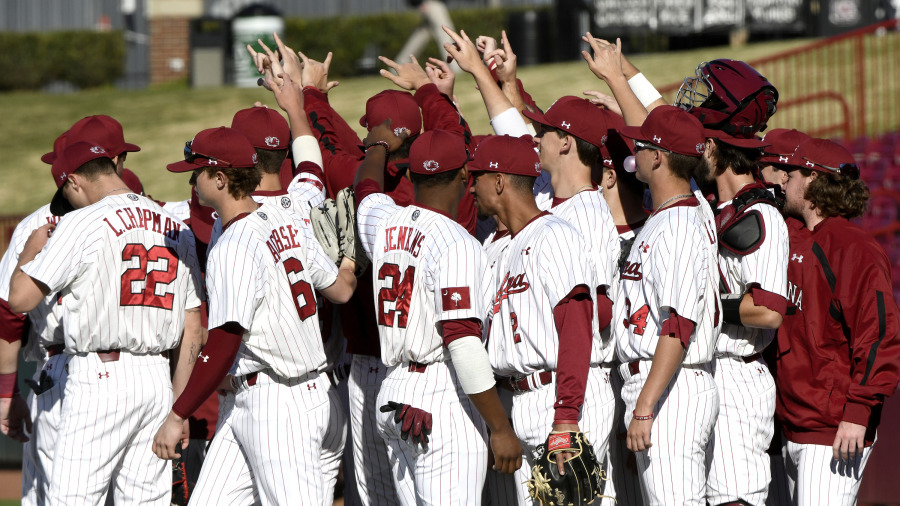 Gamecocks to host Princeton for Friday - Saturday Series
The Gamecocks Host Princeton on Friday at 7 p.m. and will play a doubleheader Saturday at 1 p.m.
GCF Staff Report
March 09, 2018
South Carolina vs. Princeton
GAME INFODate: Friday, March 9 - Saturday, March 10First Pitch: 7 p.m./1 p.m. (DH)Location: Founders ParkBroadcast: SEC Network PlusSeries: SC leads 6-1
COLUMBIA, S.C. - The University of South Carolina baseball team plays its final non-conference three-game series of the season this weekend as the Gamecocks welcome Princeton to Founders Park. There is a change to the weekend schedule as the teams will play one game on Friday, March 9 at 7 p.m. and a doubleheader Saturday, March 10 starting at 1 p.m.
All three games will be streamed on SEC Network Plus with Burch Antley and Kip Bouknight on the call. Every Gamecock baseball game also will be on the IMG Gamecock Sports Network.
The Gamecocks are coming off a 12-2 win over North Carolina A&T on Wednesday night. South Carolina had 13 hits on the night and Madison Stokes drove in three in the win.
SCOUTING PRINCETON
The Tigers fell in all four games at UNC Wilmington last weekend to open their 2018 season. Asher Lee-Tyson and Jesper Horsted both had six hits in the series, while Ryan Smith, Saturday's game one starter, allowed two earned runs and struck out six in 4.2 innings of work. Last season, Princeton finished 12-28-1 overall and 7-13 in the Ivy League.



SERIES VS. PRINCETON
South Carolina leads the overall series with Princeton, 6-1. The two teams met in a three-game series in Columbia during the 2012 season, with the Gamecocks earning the sweep. Head Coach Ray Tanner earned his 700th career win in the 2-1 series opener as Evan Marzilli and Kyle Martin had three hits apiece and Michael Roth pitched 8.2 innings with 10 strikeouts. South Carolina also faced Princeton in

the 2001

Regional in Columbia and came away with an 11-7 win.



PROBABLE PITCHING ROTATION
Friday
South Carolina Adam Hill (Jr. RHP) 1-1, 4.50 ERA, 18.0 IP, 5 BB, 34 SO
Princeton Ben Gross (Sr. RHP) 0-1, 21.00 ERA, 3.0 IP, 1 BB, 5 SO
Saturday G1
South Carolina Cody Morris (So. RHP) 2-1, 4.50 ERA, 14.0 IP, 9 BB, 13 SO
Princeton Ryan Smith (Jr. LHP) 0-0, 3.86 ERA, 4.2 IP, 3 BB, 6 SO
Saturday G2
South Carolina TBA
Princeton James Proctor (So. RHP) 0-0, 6.75 ERA, 4.0 IP, 4 BB, 2 SO
HILL EARNS NATIONAL PLAYER OF THE WEEK HONOR
South Carolina junior pitcher Adam Hill has been named a National Player of the Week by Collegiate Baseball, the publication announced this afternoon (Monday, March 5). Hill earns a national award after being named SEC Pitcher of the Week last Monday.



Hill, a righty from Anderson, S.C., was magnificent for a second straight week, helping South Carolina to a 3-2 win over Clemson on Friday night. Hill struck out 14 batters in a no-decision, giving up two runs and two hits with two walks. It was Hill's second straight 14-strikeout performance, which ties his career-high and also tied his Founders Park record. Hill struck out seven consecutive batters from the first through third innings. That tied a school record which he shares with Alex Farotto (3/25/2007 vs. Mississippi State) and George Beam (3/4/1972 vs. N.C. State). Hill earned the Tom Price Award after Sunday's game against Clemson. The award is given to South Carolina's Most Valuable Player in the series.
On the season, Hill is tied for second in the nation with 34 strikeouts and is fifth in the country in strikeouts per nine innings (1.89).
SHOOK NOT SHAKEN TO START 2018
Redshirt freshman TJ Shook earned his first career win, striking out a pair in 2.1 innings of relief in the 12-2 win over North Carolina A&T on March 7. Shook allowed just one hit and did not walk a batter in the victory. This season, Shook has pitched in 8.2 innings, allowing just six hits while not allowing a run and striking out seven while walking just one. He struck out three in 3.1 innings of work against No. 14 Clemson on March 3.



STOKES COMES BACK ON FIRE AFTER INJURY
Senior Madison Stokes was 5-for-9 (.556) with three doubles and two home runs in the first three games of the season, but a hamstring injury forced him to sit out the next five games. Stokes has been just as hot in the five games since coming back, hitting .389 (6-for-15) with a double, two home runs and five RBI, which is good for a .722 slugging percentage. Stokes had two hits and tied a

career high

with three RBI in Wednesday's 12-2 win over North Carolina A&T.



SC IN THE SEC LEADERS
Adam Hill leads the SEC with 34 strikeouts, seven more than the next closest pitcher. Hill also is third on opponent's batting average (.115) while Ridge Chapman is seventh in that category (.143). Jacob Olson and Madison Stokes each have four home runs on the season, which is tied for fifth in the league. TJ Hopkins is tied for fourth in stolen bases with six while Noah Campbell has two triples, good for a tied for third in the league. Carlos Cortes is tied for sixth with 13 walks on the year.



From USC Sports Information