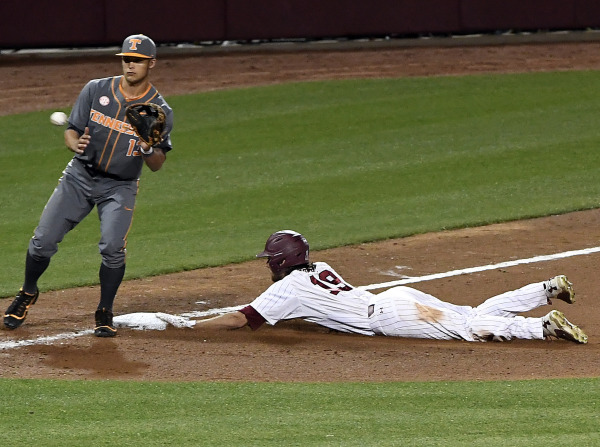 Gamecock Baseball Notebook
March 11, 2018
COLUMBIA - The University of South Carolina baseball team completed a 4-0 week with a three-game sweep of Princeton, moving to 11-3 at home this season.
Record: 11-5
Home: 11-3
Away: 0-1
Neutral: 0-1
Streak: W4
Last Week:
3/7/18 - North Carolina A&T (W, 12-2)
3/9/18 - Princeton (W, 9-2)
3/10/18 - Princeton (W, 7-3)
3/10/18 - Princeton (W, 6-4)
NOTES:
The Gamecocks completed a three-game sweep of Princeton by winning both ends of a doubleheader on Saturday, March 10. The Gamecocks won the opener, 7-3, and the nightcap, 6-4. It was South Carolina's first doubleheader sweep since winning two games on June 5, 2016, in the Columbia Regional (23-2 vs. Rhode Island and 10-1 vs. UNC Wilmington). It was the first regular-season doubleheader sweep since Feb. 21, 2015 against Northeastern (10-1 and 6-0) and the first three-game weekend sweep since March 17-19, 2017 at Tennessee.
South Carolina had three different pitchers record saves in the Princeton series. On Friday, John Gilreath, one day shy of his 18th birthday, pitched four innings and struck out eight, allowing just four hits and a run with two walks. Hunter Lomas saved Saturday's first game, striking out three in two innings of relief while Carmen Mlodzinski struck out a batter in an inning's work in Saturday's second contest.
Madison Stokes and TJ Hopkins each had an outstanding series against Princeton. Both hitters had a .556 average (5-for-9) with Hopkins putting up four extra-base hits (two doubles, a triple and a home run). The duo combined for seven RBI and both had a .714 on-base percentage.
The top four Gamecocks in the lineup fueled Carolina's doubleheader sweep on Saturday. Noah Campbell, TJ Hopkins, Madison Stokes and LT Tolbert were 16-for-30 with 11 RBI on the day. Tolbert belted two home runs, while Hopkins and Campbell each had two extra-base hits.
Adam Hill continued his strong start to the 2018 campaign, earning a win on Friday. Hill struck out nine Tigers in five innings of work, allowing just two hits and a run with two walks. On the season, the junior righty has struck out 43 batters, which leads the conference by five. He also has the league's best opponent's batting average (.115).
Cody Morris now has three wins on the season after his win on Saturday in game one. Morris pitched six-plus frames, allowing five hits and two earned runs while striking out six and walking just two.
TJ Shook earned his first win of the season and continued his impressive beginning of 2018 on the mound with another long relief stint in the Princeton series. Shook pitched 2.1 innings of relief Wednesday against North Carolina A&T, striking out two while allowing one hit to earn the win. Then in Saturday's game two win, he struck out a pair and allowed just two hits in the 6-4 win. He also got out of a self-inflicted jam after walking a pair, getting a double-play groundout and strikeout to end the threat. Shook has not allowed an earned run in 11.2 innings of work this year.
South Carolina enters the Wednesday matchup with Harvard with 26 home runs after 16 games. Carolina had 58 for all of the 2017 season. LT Tolbert, Madison Stokes and Jacob Olson have four home runs apiece for the Gamecocks.
The Gamecocks will play Harvard on Wednesday night at Founders Park before opening SEC play against defending national champion Florida this weekend in Columbia. (March 16-18). Sunday's game will be televised on ESPNU and begin at 1 p.m.
Next Week
3/14/18 - Harvard - 7 p.m. (SECN+)
3/16/18 - Florida - 7 p.m. (SECN+)
3/17/18 - Florida - 4 p.m. (SECN+)
3/18/18 - Florida - 1 p.m. (ESPNU)